Instrumentals have rarely been big on the pop charts.  But after the 1970s, they became almost extinct, with just a very few exceptions.  One of those was charted in 1980 by an artist who had had a much bigger instrumental hit two years earlier.  You probably remember a song by Chuck Mangione called "Feels So Good"…do you remember "Give It All You Got"?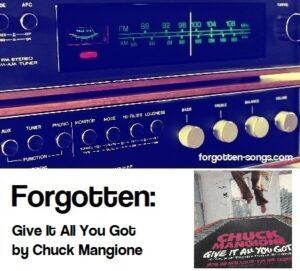 An Abridged History of Chuck Mangione
Chuck Mangione's official website states, quite correctly, that he has had a decade spanning "more than five decades".  That being said, it is perhaps beyond the reach of this page to try to sum his career up in one or two paragraphs, so I'm not going to try.  Obviously, it is not going too far to say that Mr. Mangione is one of the most well-known flugelhorn players ever to hit the top 40.
In the late 1970s, things were going quite well for Mr. Mangione.  After signing with A&M Records, he had had one of his tracks, "Chase the Clouds Away", used as background music during telecasts of the 1976 Summer Olympics.  He had also won two Grammy Awards, and, of course, "Feels So Good" became one of the most recognized instrumentals in the pop era.  (In 1980, Mr. Mangione's bio stated that the magazine "Current Biography called 'Feels So Good' the most recognized melody since the Beatles' 'Michelle'.")
It was somewhere around that time that Roone Arledge of ABC Sports came to Mr. Mangione and asked him to create a theme for the 1980 Winter Olympics, and he did so.  That ABC commissioned the song was stated explicitly on the back cover of Mr. Mangione's 1980 album Fun and Games, as well as on the sleeve of the single itself.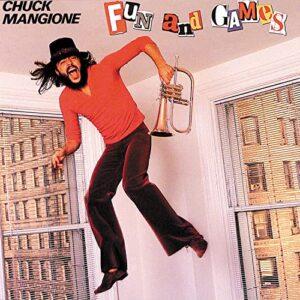 (Fun and Games peaked at #8 on the Billboard Top LPs & Tape chart. Album ℗1980 A&M Records, Inc.)
The Single
Given its reason for being commissioned, "Give It All You Got" was the obvious first single from the album.  It received heavy airplay during the games, as might be expected.  Chuck Mangione performed it live at the closing ceremonies, thereby allowing literally hundreds of millions of people (if not more) to hear it.
Chart Performance
"Give It All You Got" had a decent 16-week run on Billboard's Hot 100.  It debuted at #89 for the week of January 19, 1980 (chart).  Undoubtedly bolstered by its constant use during the Winter Olympics, the single eventually made its way to a peak position of #18 in its tenth week (chart).  From the looks of things, it came very close to making the year-end Hot 100, but it just missed.*
If the Olympics helped "Give It All You Got" a little bit on the pop chart, it helped significantly more on the Adult Contemporary chart (then called "Hot Adult Contemporary Tracks"), where the single shot up to #1 in just its fifth week (chart – Billboard Pros only).  Not surprisingly, that week in which it hit #1 was the last week of the Olympics, so that by the next week, it was down to #2.  Still, it was a big enough single to be ranked as the #12 adult contemporary song of 1980 (magazine).
After "Give It All You Got"
The follow-up to "Give It All You Got" was the title track from Fun and Games.  It got all the way up to #49 on the Adult Contemporary chart…which isn't too impressive, considering the chart at the time only had 50 songs.  Following that, to date, Chuck Mangione has not hit either the Hot 100 or the Adult Contemporary chart since.
Since then, Mr. Mangione has still been recording and performing.  He has also done some occasional acting, most notably playing himself in multiple episodes of King of the Hill, where anything he played somehow transitioned into "Feels So Good", which is still obviously widely recognized.
But rarely will you hear "Give It All You Got" on any station.  I personally last heard it played on the radio on 70s (at the time) station KEOM in the Dallas area over two decades ago.**  Some classic hits station needs to repopularize this one today.
* For comparison, the #100 song for 1980, "Refugee" by Tom Petty and the Heartbreakers, also spent just 16 weeks on the chart and peaked at #19.
** Though the album was released in 1980, "Give It All You Got" qualifies as a 70s tune. Barely.
Note: this post contains affiliate links. View my affiliate link disclaimer here.