From what I have seen, sometimes a song becomes forgotten because of multiple reasons.  Take, for example, an artist whose career has stretched six decades and counting, and add in the fact that the song in question was part of a short-lived foray into the world of disco, and you have the perfect recipe for a song that American radio leaves behind.  Such is the case for a 1979 smash by Barbra Streisand.  You may have heard of her before, but do you have any memory of "The Main Event/Fight"?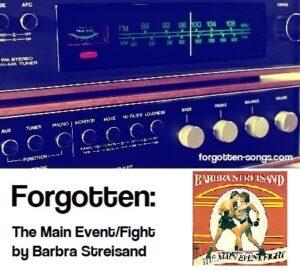 Leading Up To "The Main Event/Fight"
No, I'm not going to go in Barbra Streisand's full bio.  I try to keep these posts between 750-1250 words, and her bio would fill more than that.  So, straight to 1979 we go…
In 1979, to put it succinctly, Barbra Streisand was huge.  Stereogum reports, for example, that "[t]hat year, America's movie theater owners voted Streisand the planet's #5 most bankable actor".  She had also just hit #1 for the third time in December of the year before, thanks to her duet with Neil Diamond, "You Don't Bring Me Flowers".  Everything she touched seemed to turn to gold.
And so it was around this time that Ms. Streisand was offered (eventually, as she was not the original choice) the lead in the movie The Main Event.  A romantic comedy centered around boxing, the movie got uneven reviews and was panned as a "meet cute" by Roger Ebert.  It probably didn't help that the movie was released just one week after another boxing movie, Rocky II, and the same week as family fave The Muppet Movie.  However, the movie did decent business, reaffirming Ms. Streisand's status as a box office draw.
The Soundtrack
It was an obvious decision to have Barbra Streisand sing on the soundtrack of a Barbra Streisand film.  After all, her first two #1 songs ("The Way We Were" and "Evergreen") were from the soundtracks of two of her earlier 1970s films; both also won an Academy Award for Best Original Song.  The theme for The Main Event would be Ms. Streisand's first disco song; it was co-written by Paul Jabara, who had written the Oscar winner from 1978, Donna Summer's "Last Dance". (The song also appeared on the soundtrack as a ballad.)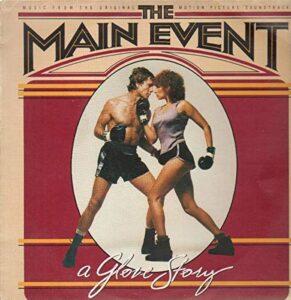 (The Main Event peaked at #20 on the Billboard Top LPs & Tape chart. Album ℗1979 CBS Inc.)
The Single
"The Main Event/Fight", like so many disco hits, was a rather long piece, with a runtime of over 11½ minutes.  That would never do on radio, of course, so it was cut down to just under five minutes for release as a single.
It should be noted that the Stereogum article I linked above rates "The Main Event/Fight" at 4/10.  I disagree, or I wouldn't be writing this post.  Your mileage may vary.
Chart Performance
"The Main Event/Fight" debuted on Billboard's Hot 100 at #75 for the week ending June 16, 1979 (chart | magazine).  (The movie would be released shortly thereafter.)  The single peaked at #3 for the week ending August 11 (chart | magazine), where it stayed for four weeks, kept out of the top two by Donna Summer, The Knack, and Chic.*  Perhaps foreshadowing its status as a forgotten song, it had little staying power as a recurrent; it fell out of the top 40 in its 17th week on the Hot 100, and one week later, it was completely off the chart.  However, its performance was good enough for Billboard to rank it 35th in its year-end countdown for 1979 (magazine).
Interestingly, for a disco single, "The Main Event/Fight" did even better on the Adult Contemporary chart, rising to #2 for the week ending September 1 (chart – Billboard Pros only | magazine).  It finished the year as the #20 song on that chart.
It also peaked at a relatively low #13 on the Disco chart.
After "The Main Event/Fight"
I suppose it must have been a good experience for Barbra Streisand to work with Paul Jabara (and his co-writer, Bruce Roberts) on "The Main Event/Fight", as they ended up working together, along with Donna Summer, on "No More Tears (Enough Is Enough)".  That song was even more successful, spending two weeks at #1 in late 1979.
Ms. Streisand's popularity in both movies and music began to wane somewhat after the end of the 1970s.  1981's All Night Long flopped at the box office, and IMDB reports that she has appeared in only seven movies in the 40 years since.  As for her music output, many of her albums have hit #1 since, though top 40, for the most part, left her behind after she placed three hits from the largely Barry Gibb-produced Guilty into the top 10 in 1980-1981.  She's still stayed rather busy since then, of course.
Forgetting "The Main Event"
In several of my posts, this would be the part in which I mention when I remember last hearing this song on the radio.  In this case, though, I have no memory of hearing it anywhere other than online, which is rather surprising, since I was exposed to a lot of Adult Contemporary radio** in the summer of 1979.  I would be extremely shocked if I heard "The Main Event/Fight" on a Classic Hits station now.  But it would be pretty cool if I did.
* If that doesn't sum up 1979 on the pop charts…
** As mentioned on this site previously, the stations I heard back then would have been correctly classified as MOR.
Note: this post contains affiliate links. View my affiliate link disclaimer here.