I think I've said this multiple times over the lifespan of this blog, but there were a lot of one-hit wonders in the early 90s.  A.  Lot.  One of those was a group with a unique lineup.  There have been lots of groups featuring siblings, to be sure.  How many can you name that consist solely of three triplet sisters?  With that distinction, what other name would you expect them to have for their group than The Triplets?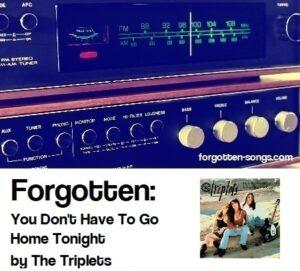 Who were The Triplets?
Unlike a group such as the Thompson Twins, who were not only not twins but not even a duo, The Triplets were just that.  Vicky, Sylvia, and Diana Villegas were all born on April 18, and they were all born with musical talent.  As their website explains, they "swept to victory in the network's Basement Tapes video contest."
Now, their website would have you believe that they went straight from there to having their one big hit, but that wasn't quite the case.  Yes, they got a record deal (Elektra) and released an EP (Break The Silence), but that was in 1986.  It wasn't until 1991 that The Triplets released their first full album, Thicker Than Water.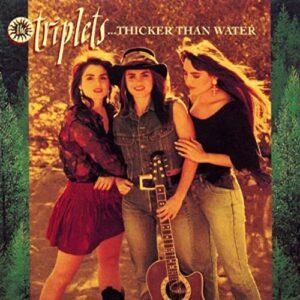 (Thicker Than Water peaked at #125 on the Billboard Top Pop Albums chart. Album ℗1991 Polygram Records.)
The Single
The lead single from Thicker Than Water was "You Don't Have To Go Home Tonight", a mid-tempo song with lots of harmonies from the sisters.  The message of the song is…well, pretty obvious from the title.
Chart Performance
"You Don't Have To Go Home Tonight" debuted on Billboard's Hot 100 the week ending March 16, 1991 (chart).  (It would've been the highest debut of the week if not for Rod Stewart's eventual top-five hit "Rhythm Of My Heart".)  It hit its peak almost exactly two months later, topping out at #14 (chart).  In all, it stayed on the charts for 16 weeks.  It had a decent chart run, but in 1991, that wasn't quite enough to get the single onto the year-end chart.
The Triplets after "You Don't Have To Go Home Tonight"
When their single made it big, it certainly seemed as if The Triplets would be around for a while.  The author remembers seeing them highlighted in Más magazine around that time.*
But no follow-up singles from Thicker Than Water charted.  Their next album, Algo Mas Que Amor**, as might be expected from the title, was geared more toward the Latin Pop market than the top 40 landscape.  (Yes, there were two English tracks, but, honestly, they weren't the type of sound that 1993 top 40 radio was looking for.)
And after that…nothing.  Their website admits that they disappeared, but goes on to say that "they began the journey that leads them to where they are now."  The site isn't exactly forthcoming with details about their disappearance.
The Triplets finally released a new album, Independence Road, in 2016…though with only two sisters singing.  (Diana remains a part of the group, though she only contributed lyrics for that album.)
The Disappearance of "You Don't Have To Go Home Tonight"
"You Don't Have To Go Home Tonight" was one of the many songs from 1991 that pretty much disappeared from radio right after it fell off the charts.  It'd be nice to hear it again, seeing as I, at least, still remember it.  (Heck, I may even have that Más magazine in a box somewhere.)
* The author took Spanish a long time ago, and the whole class received a free subscription.
** I'm pretty sure that album title (and its cover) is missing a diacritic.
Note: this post contains affiliate links. View my affiliate link disclaimer here.