We have seen a lot of artists  who, though very famous, have had songs become forgotten.  Many have been covered on this page before (and a few probably will appear again).  To add to this list, I give you one Whitney Elizabeth Houston.  For at least the last half of the 80s, it seemed as if she were everywhere.  But with as many hits as she had, some were bound to disappear.  Such was the case for her 1988 hit, "Love Will Save The Day".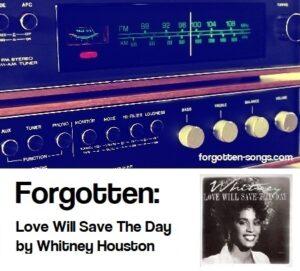 The Success of Whitney Houston
Whitney Houston is one of those people for whom a two-paragraph biography on this site doesn't do justice.  With that said, we'll jump right to the point where Ms. Houston was becoming a huge star.
In 1985, Whitney Houston burst onto the scene as a solo recording artist to almost immediate chart success.  Her debut, self-titled album spawned one #3 and three #1 hits while topping the album charts for over three months.  She was basically everywhere around that time, including virtually every commercial break, as she appeared in multiple ads* for Diet Coke, starting around 1986.
In 1987, Ms. Houston released another eponymous album, this one titled just Whitney.  It was almost a foregone conclusion that a follow-up album, released so soon after the first one, would be another smash hit.  Sure enough, the album was eventually be certified Diamond, which means that 10 million copies sold.
As might be expected with such a monster pop album, there were lots of singles released to top 40 radio.  The first four of those singles hit #1, which meant that Ms. Houston had had seven #1 hits in a row by mid-1988.

(Whitney debuted at #1 on the Billboard Top Pop Albums chart and stayed there for 11 weeks. Album ℗1987 Arista Records.)
The Single
The fifth single from Whitney was "Love Will Same The Day", an uplifting, feel-good song that really didn't contain any hidden meaning beyond its title.  Rolling Stone's Vince Aletti called the track "the only song to even remotely acknowledge the problems of the world at large and the most vivaciously percussive track on the record."  Perhaps not the most glowing of reviews, but a lot of people, including your author, certainly liked it.
Chart Performance
"Love Will Save The Day" debuted on Billboard's Hot 100 all the way up at #52  for the week ending July 2, 1988 (chart).  As might be expected, that made it the highest debuting single of the week.  Unfortunately, snapping her streak of number one hits at seven, the single only (as if this were a bad showing) managed to make it to #9 for the week ending August 27 (chart).  It spent 16 weeks on the chart overall, which wasn't quite good enough to make the year-end Hot 100 (though three other songs from Ms. Houston did so).
The single had similar, or better, success on other charts.  It peaked at #10 on the Adult Contemporary chart (chart – Billboard Pros only).  And it topped the Hot Dance/Disco Club Play chart for one week (chart – Billboard Pros only), ending the year as the #13 dance song (archived chart).
Whither "Love Will Save The Day"?
I suppose that, given the trajectory of Whitney Houston's career, it was easy for a song that failed to hit number one to fall by the wayside, particular in light of several further number one hits from future albums that were still to come in 1988.
Again, given her enormous fame, I won't go into Ms. Houston's life story here, except to say that, as of this writing, it has been nearly a decade since her untimely passing.  As time passes, her music is slowly more forgotten by radio.  It would be nice to hear a more obscure track like "Love Will Save The Day" get some airplay once again.
* None of which will be presented here due to copyright, and to some degree, because I don't like Diet Coke.
Note: this post contains affiliate links. View my affiliate link disclaimer here.