Talk about the group Pablo Cruise, and one of two things will typically happen:  either someone who listened to top 40 radio in the late 70s will remember about two songs; or someone will ask who you're talking about.  If you're reading this blog, you'll probably remember the two biggest hits from Pablo Cruise.  However, that group had a few more hits besides that.  One of them was not a big hit, but "Don't Want to Live Without It" did crack the top 30.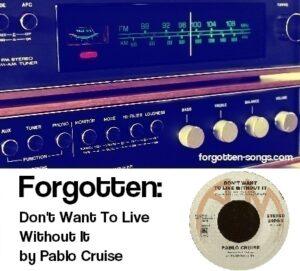 Pablo Cruise in Three Paragraphs
Pablo Cruise formed in 1973 in San Francisco as a quartet.  When asked which of them was "Pablo Cruise", the standard response appears to have been, "He's the one in the middle."*  They had modest success before finally cracking the top 10 with "Whatcha Gonna Do?".  Suddenly, their breezy, yacht rock sound was holding its own against a heavy onslaught of disco.
Original member Bud Cockrell left the group at this point, so with Bruce Day as the group's new bassist, Pablo Cruise released Worlds Away in 1978.  Featuring synthesizer work from both session musician (and, later, film composer) James Newton Howard, as well as Toto's Steve Porcaro, Worlds Away was Pablo Cruise's second platinum album, and also its highest charting.
The first single from that album, "Love Will Find a Way", duplicated their best chart position at #6 that summer.  Your author remembers well hearing it played often on the MOR station where he lived at the time.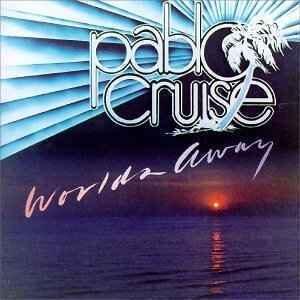 (Worlds Away peaked at #6 on Billboard's Top LPs and Tape chart. Album ℗1978 A&M Records, Inc.)
The Single
The second single from Worlds Away was a bouncy single with a simple message.  The protagonist of the song is very satisfied in his relationship and doesn't want it to end.  Again, it's simple, but with a nice yachty sound to it, the single works.
Chart Performance
"Don't Want to Live Without It" entered Billboard's Hot 100 at #88 for the week ending September 16, 1978, while "Love Will Find a Way" was still in the top 40 (chart | magazine).  After a relatively slow (for its time) climb, the single peaked at #21 for the week ending December 2 (chart).  It stayed at that position for two weeks and then fell right out of the top 40.   In all, the single remained on the charts for 16 weeks.**
Pablo Cruise After "Don't Want to Live Without It"
The two songs for which Pablo Cruise is best known had come and gone by the time "Don't Want to Live Without It" charted, but the group wasn't quite done.  One more single from Worlds Away, a remake of "I Go to Rio", came close to hitting the top 40 in early 1979.  Two other albums charted after that, and two more singles hit the top 40, but their 1983 album Out of Our Hands failed to chart entirely, and the group's record deal was not renewed after that.
Since then, Pablo Cruise has occasionally reformed (including former member Mr. Cockrell) and resumed touring.  Even more occasionally,  the group has recorded, releasing a single during the 2020 lockdown.  They've had some turnover in personnel due to retirement and death (again, Mr. Cockrell), but, as of this writing, they're still touring.
But it would certainly be nice for some classic hits station to give "Don't Want to Live Without It" a spin sometime.
Like these songs? Buy me a coffee!
* My sometime acquaintance, Mike Casey. formerly of KQMT/Denver, used to snark about this statement always being followed by raucous laughter.
** It probably should have fallen off after the 15th week but got an extra week when the charts were frozen over Christmas week.
Note: this post contains affiliate links. View my affiliate link disclaimer here.