If you're of a certain age, you probably remember hearing Gerry Rafferty on the radio a lot.  And I mean a whole lot.  His biggest hit was all over the radio during the summer of 1978, and the follow-up got lots of airplay that fall.  But Mr. Rafferty had more hits than just those two.  Do you remember 1979's "Get It Right Next Time"?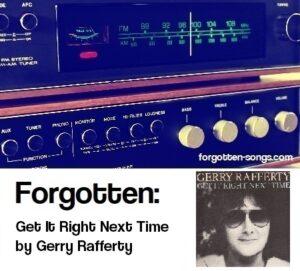 Gerry Rafferty Before 1979
Aside from his two big hits, Gerry Rafferty is probably best known for being part of Stealers Wheel.  If you don't remember that name, you almost certainly remember the group's one big hit, "Stuck in the Middle With You", which will almost certainly never be forgotten enough to get onto this site.  Unfortunately, the short lifespan of Stealers Wheel had more than its fair share of drama.  Mr. Rafferty left the group after its first album and had to be persuaded to return, but the failure of the group's second album drove a wedge between Mr. Rafferty and his bandmate, Joe Egan, and within three years of their one big hit, Stealers Wheel was no more.
The drama didn't stop there, though.  Allmusic explained what came next:
The break-up of Stealers Wheel blighted Rafferty's and Egan's careers for the next three years, as legal disputes with their respective managements prevented either man from recording.
And so it was 1978 before Gerry Rafferty released a solo album.*  But what an album it was.  City to City was a smash hit, going to number one on the album charts and getting certified platinum.  The lead single, "Baker Street", was one of the biggest hits of the year,** and the follow-up, "Right Down the Line" was no slouch either.  The album might have done even better, except, as Allmusic relates, that Mr. Rafferty's "reclusive and sometimes iconoclastic nature prevented him from touring in support of it."
Instead of touring, Gerry Rafferty went back into the studio, recording his next album, Night Owl, which came out about a year later.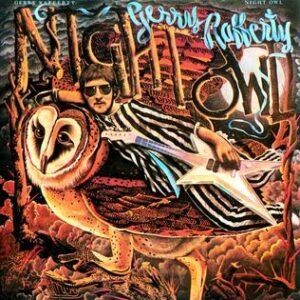 (Night Owl peaked at #29 on Billboard's Top LPs and Tape chart. Album ℗1979 United Artists Records.)
The first single, "Days Gone Down (Still Got the Light in Your Eyes)", while not having quite the success of "Baker Street" or "Right Down the Line", still managed to make the Top 20.
The Single
The follow-up to "Days Gone Down" was "Get It Right Next Time", a contemplative, sultry song about learning from one's mistakes.  Raphael Ravenscroft, who provided the famous saxophone riff for "Baker Street", returned for this track (and several others on the album).
Chart Performance
"Get It Right Next Time" debuted on Billboard's Hot 100 at #82 for the week ending August 11, 1979 (chart | magazine).  (Coincidentally, "Days Gone Down" fell off the chart that same week.)  It peaked at #21 just over two months later (chart | magazine).  The single held on at #21 for another week; three weeks later, though, it was off the chart entirely.
The song did a little better on the Hot Adult Contemporary Tracks chart, peaking at #15 (chart – Billboard Pros only).
Forgetting "Get It Right Next Time"
Allmusic described Gerry Rafferty as "[i]ncreasingly fed up with the confines of recording and releasing music commercially".  This may explain why, after a couple more albums in the early 80s (which were not as successful), Mr. Rafferty released albums much more rarely.  With that said, though, he did release albums every so often throughout the rest of his life, until his death in 2011 from liver disease.
"Baker Street" and, to a lesser extent, "Right Down the Line" still get the occasional spin on US radio.  Gerry Rafferty's other singles, such as "Get It Right Next Time", however, have vanished from the airwaves.
Like these songs? Buy me a coffee!
* Gerry Rafferty had released one solo album in 1971, but it didn't chart anywhere.
** A persistent rumor (related here) says that it should have hit number one in the middle of the seven-week streak of Andy Gibb's "Shadow Dancing", but for some industry politics.
Note: this post contains affiliate links. View my affiliate link disclaimer here.