Sometimes memory plays tricks on you.  For instance, one might hear a song played on the radio enough times that, 25 years later, one would think it had to have been a big hit back then…only to find out that it wasn't.  And that is exactly the case with my faulty memory of the Los Umbrellos song "No Tengo Dinero".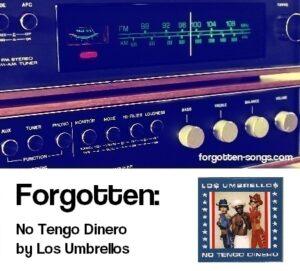 The Unique Origins of Los Umbrellos
Los Umbrellos – and I feel quite confident in saying this – is the only pop group made up of an African prince and two models.  (No, really…Billboard says so!)  Al Agami, along with his family, fled the oppression of Idi Amin's Uganda and went to Denmark, and then…he started rapping on records starting in the mid-80s.  (Billboard's writeup – as well as my own – appears to be missing some amount of history between those two events.)
The group released a grand total of one album, Flamenco Funk.  Despite the unique backstory of the group, the album was not a rousing success, charting, from what I can see, in a grand total of two countries, neither of which was Denmark (or the U.S.).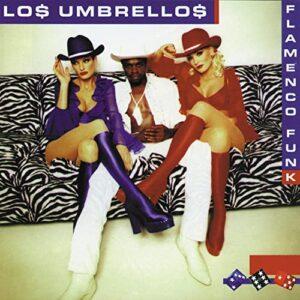 (As mentioned above, Flamenco Funk failed to make the Billboard 200. Album ℗1998 Flex Records, Denmark.)
The Single
Despite the lack of chart success for Flamenco Funk, obviously at least one single managed to chart, or I wouldn't be writing this post.  That one single, "No Tengo Dinero", was a partial remake of the 1960s song "Never On Sunday" (originally written in Greek as "Ta Pediá tou Pireá"), which was recorded by several artists.  The lyrics to "No Tengo Dinero", though, are quite a bit more wanton than those to "Never On Sunday".  A reflection of the times, perhaps.
Chart History
"No Tengo Dinero" entered Billboard's Hot 100 at a modest #80 for the week ending August 30, 1997 (chart | magazine).  The way I remember it, the song got a fair amount of airplay (at least where I was living at the time), which is why I thought it was a bigger hit.  But it wasn't, not really.  Sure, it took four whole months before it finally peaked, but that peak was only at #42 (chart | magazine).  Not too big a hit after all, was it?  Anyway, the song then managed to stay stuck at #42 for five weeks before finally moving down one notch…and then moving right back up to #42.  It bounced around the 40s for another month before dropping right off the chart from #49.  In all, it spent 27 weeks on the chart, but given both its low peak and its straddling of two calendar years, it did not make it onto a year-end Hot 100 chart.
Los Umbrellos After "No Tengo Dinero"
The history of Los Umbrellos after their one hit is, frankly, really short.  Three more singles missed the Hot 100 entirely.  Flamenco Funk was the group's only album.  By 1999, Los Umbrellos was no more.
And for all that airplay that I, for one, recall hearing on top 40 radio in 1997-98, "No Tengo Dinero" has pretty much disappeared from radio.  It seems to me like the type of song that could find a place on classic hits stations.
Like these songs? Buy me a coffee!
Note: this post contains affiliate links. View my affiliate link disclaimer here.