In addition to massive success on the pop charts in the late 70s/early 80s, Olivia Newton-John had some amount of success in acting as well.  Some of her greatest hits, of course, came from soundtracks.  (Grease, anyone?)  It was from her last big-budget movie that some of Ms. Newton-John's final charting hits came, including her 1984 hit "Livin' in Desperate Times."
The Movie Career of Olivia Newton-John
When last we left Olivia Newton-John, she was riding high on the successes of the 1978 blockbuster Grease (as well as the success of the platinum album Totally Hot).  From there, Ms. Newton-John went on to Xanadu, a roller-disco box office bomb (which has become a bit of a cult classic)*.
Fast-forward to 1983.  Olivia Newton-John hadn't been in a movie in three years (though she definitely kept busy with the double-platinum Physical).  An article from People magazine at the time explains that she and her Grease co-star, John Travolta, had been looking to recreate their chemistry from that movie.  Carl Arrington wrote:
John Travolta was on the phone with a playful ultimatum. "Olivia, if you don't like this," he warned of the latest of some 30 screenplays they'd considered, "I don't think we'll ever find another movie to do together." The story was appropriately called Second Chance, and Olivia Newton-John took it.
Eventually the title was changed to Two of a Kind, and while critics generally praised the chemistry of the two stars, they savaged virtually everything else about the film.  It turned out not to be a commercial success, either.
The Soundtrack
As was the case with Xanadu, the most redeeming thing about Two of a Kind was its soundtrack.  With songs from Journey, Chicago, and others in addition to Ms. Newton-John, the soundtrack went platinum.  Her first single from that soundtrack, "Twist of Fate", shot all the way to #5.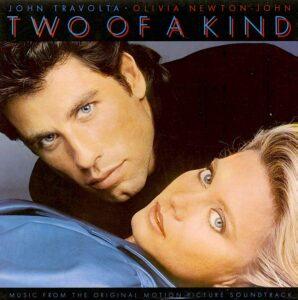 (The soundtrack to Two of a Kind peaked at #26 on the Billboard Top LPs and Tape chart. Album ℗1983 MCA Records, Inc.)
The Single
"Livin' in Desperate Times" was Ms. Newton-John's second and final single from the soundtrack to make the Hot 100.  Heavy with synthesizers and drum machines, the song is not nearly as upbeat as "Twist of Fate".  Instead, it presents a bleak outlook on life, with little hope of things changing.  But, it's certainly danceable, as its video certainly showed.**
For some reason, some sources and some albums show the title as "(Livin' in) Desperate Times".  The single, however, is clear in not having the parentheses in the title.  You know, for what that's worth.
Chart Performance
"Livin' in Desperate Times" debuted at #64 for the week ending February 11, 1984 (chart)***, while "Twist of Fate" was still in the top 40.  The two songs coexisted in the Hot 100 for a month.  Two weeks after "Twist of Fate" finally dropped off the chart, "Livin' in Desperate Times" peaked at #31 (chart) and stayed there for two weeks.  In all, the song stayed on the chart for 10 weeks.  Not surprisingly in a great year for top 40 like 1984 was, that was not nearly good enough to make the year-end Hot 100.
Forgetting "Livin' in Desperate Times"
Not surprisingly, a dance song that didn't make the top 30 didn't really have staying power on the radio, especially when "Twist of Fate" has disappeared from radio as well.  (Seriously, "Twist of Fate" is the fifth most "lost" song of the 80s.  "Livin' in Desperate Times" didn't make that list because that list only used the top 100 songs of every year in that decade, but if "Twist of Fate" got literally no spins in the period tested, you know  "Livin' in Desperate Times" didn't either.)
But hey, "Crap From the Past" gave "Twist of Fate" a rare spin last week (while this post sat half-finished****), so maybe this song can make its way back to radio again as well.
Like these songs? Buy me a coffee!
* While the movie failed, its soundtrack was quite successful.
** Video not included.
*** It would have been the highest debut of the week, if not for a Michael Jackson song called "Thriller", which debuted way up at #20.
**** Like several others.
Note: this post contains affiliate links. View my affiliate link disclaimer here.