If you listened to top 40 or MOR radio in 1977 and 1978, it wouldn't be long before you found an artist who had some amount of success thanks to the Bee Gees.  One of the most fortunate recipients of the Gibb brothers' largesse was Australian singer Samantha Sang, who had a platinum hit single thanks to them.  Her follow-up to that song, though, didn't have the same traction on the charts.  I guess that's why I'm writing today about "You Keep Me Dancing" on this page.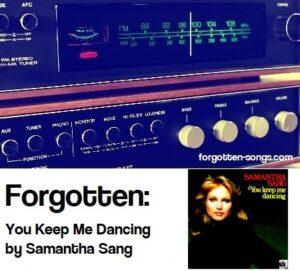 The early years of Samantha Sang
Let's get the obvious part out of the way: there just isn't much information to be found online about Samantha Sang.  She doesn't have an official webpage, as far as I know.*  Luckily, AllMusic exists to fill in the gaps and keep me from having to rely on Wikipedia.
Born Cheryl Lau Sang in Melbourne, Australia, she originally recorded under the stage name Cheryl Gray.  Eventually, she relocated to the UK, where Barry Gibb happened to hear her sing.  He introduced her to his manager, Robert Stigwood, who convinced her to change her stage name to the one by which we know her now.  Barry and Maurice Gibb wrote a single, "The Love of a Woman"**, for Ms. Sang, and Barry produced it and sang backup.  It became a minor European hit.
The Bee Gees provide some success
As Superseventies.com explains, what Ms. Sang really wanted was to crack the American charts, but she had had no success until she flew to Paris in 1977 to visit with Barry Gibb again.  The Bee Gees happened to be there working on the soundtrack to Saturday Night Fever, but Barry and Robin Gibb took an hour or so to write a single for her.  Several months later, Barry and the Bee Gees' production team produced the single, "Emotion", for her.  Given the extreme popularity of the Bee Gees at the time, and given their connection to the single, multiple labels wanted to be the one to release it.
Interestingly enough, Robert Stigwood declined to sign her to his label, RSO Records, at that time.  (Superseventies.com says that he "doubted Sang's ability to sell records without a Bee Gee connection.")  And so it was that her album, also titled Emotion, ended up on Private Stock Records instead.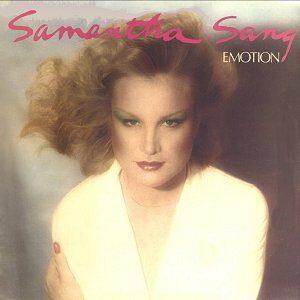 (Emotion peaked at #29 on the Billboard Top LPs and Tape chart. Album ℗1977 Private Stock Records.)
"Emotion" rode the Bee Gees connection all the way to #3, kept out of the top two by, fittingly enough, the Bee Gees' tracks "Night Fever" and "Stayin' Alive".
The Single
The follow-up to "Emotion" was a track penned by industry veterans Denny Randall and Sandy Linzer, who were responsible, among other things, for multiple top ten hits for the Four Seasons.  "You Keep Me Dancing" was a song in which Ms. Sang compared her current partner (favorably) to several previous suitors.  Guess why?  That's right, because he kept her dancing.
Let's be honest; this is not the deepest song lyrically.  What it has, though, is a soulful yacht sound.***
Chart Performance
"You Keep Me Dancing" debuted on Billboard's Hot 100 at #88 for the week ending May 6, 1978 (chart).  ("Emotion" was still on the chart when it debuted; it would remain on there for two more weeks.)  Its rise up the chart was short-lived, as it stalled out at #56 for the week ending June 3 (chart).  It stayed at #56 for another week before taking a nosedive the next week and falling off the week after.  In all, the single spent seven weeks on the chart.
The song did perform a bit better on the Adult Contemporary chart.  Though it also only spent seven weeks on that chart, it managed to peak at #34 for the week ending June 17 (chart – Billboard Pros only).
After "You Keep Me Dancing"
Samantha Sang released one more album, From Dance to Love (on yet another label), in 1979.  That album yielded one more single that hit the Hot 100 (though it failed to chart at all in her native Australia).  That single, "In the Midnight Hour", was a disco remake of the Wilson Pickett classic.
There was one more (non-album) single in 1981, and then there was very little since then.  Allmusic says Ms. Sang has recorded backup vocals for many artists since then, and that she is still performing.
Forgetting "You Keep Me Dancing"
I don't recall "You Keep Me Dancing" getting much airplay at the time of its release (though "Emotion" got lots of spins on my local MOR station at the time).  The song certainly hasn't gotten much of any airplay since then.  It does seem like the type of song that you might just hear on a specialty show, perhaps.  So, if Barry Scott or Ron Gerber ever reads this, consider this a request.
Like these songs? Buy me a coffee!
* She used to. It's archived here.
** She re-recorded that same song a few years later; that version is available here.
*** As of this writing, YachtorNyacht.com has not reviewed this song, but it's so obvious to me that this is yacht rock.
Note: this post contains affiliate links. View my affiliate link disclaimer here.