Occasionally, a recording artist from overseas will finally break into the US market with one huge hit, and then they will become a fixture on the US charts for years to come.  (ABBA comes to mind almost immediately.)  However, there are other artists who have that one breakthrough hit on the US charts…which turns out to be their only one.  Such was the case for Tina Arena and her power ballad, "Chains".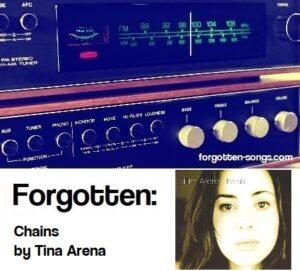 The Early Days of Tina Arena
Filippina Lydia "Tina" Arena got her start in music pretty darn early in life, and in a very public way.  Per her official bio, she appeared as a contestant on Young Talent Time, a popular variety show in her native Australia, when she was about 7.  This led to "Tiny Tina" becoming the longest-running cast member in the 17-year original run of the program.
Ms. Arena released her debut solo album, Strong as Steel, in 1990.  The late Australian music journalist, Ed Nimmervoll, wrote on his now-dead-but-archived website Howlspace that this album "cast her as a dance diva", which means that, had she continued in this vein, she might very well have ended up on this site in another category of music entirely.  But she didn't stay with this type of music, even despite the lead single, "I Need Your Body", going platinum in Australia.  As Mr. Nimmervoll states,
Tina was not comfortable. This was not her. This was not what she wanted to be for the rest of her life.
So, after some time away from the studio, Tina Arena signed with Sony in 1993-1994 and, in an attempt to, as Mr. Nimmervoll put it, "put the past completely behind her", recorded her second solo album, Don't Ask.  What we're not supposed to ask is not clear, though my guess is that perhaps it's about what happened to the sound from Strong as Steel.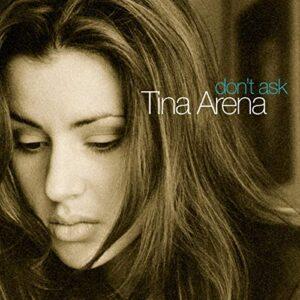 (Don't Ask peaked at #101 on the Billboard 200. Album ℗1994 Sony Music Entertainment.)
The Single
The lead single from Don't Ask was "Chains", a power ballad about being in an abusive relationship.  I've seen multiple interpretations about that sort of relationship it was, but the overarching theme is pretty clear.
Chart Performance
"Chains" rocketed onto Billboard's Hot 100 all the way up at #52 for the week ending April 20, 1996 (chart | magazine).*  It only needed two more weeks to peak; unfortunately, that peak was only at #38 (chart | magazine).  It lasted 12 weeks on the chart, which was definitely not enough in the mid-90s to make the year-end chart.
Of course, Hot 100 performance meant a bit less by the mid-90s.  "Chains" fared better on what was then called the Top 40/Mainstream chart, peaking at #17 for the week ending April 27, 1996 (chart – Billboard Pros only).**
And, as you might expect, a power ballad like "Chains" had to have some amount of traction on the Adult Contemporary chart.  Though it spent just 12 weeks on that chart as well, it had the same higher peak here as it did on Top 40/Mainstream, coming in at #17 for the week ending May 18, 1996 (chart – Billboard Pros only | magazine).  Billboard only published a top 25 Adult Contemporary year-end chart for 1996, and not surprisingly, a 12-week run with a peak of #17 was not enough to get "Chains" onto it.
Tina Arena After "Chains"
As it turned out, "Chains" would be the only single from Don't Ask to hit the Hot 100***, though several singles charted in other countries.  She would eventually hit the very bottom of the Hot 100 one more time, in 2003, when she sang on the Roc Project's debut single "Never (Past Tense)".
Ms. Arena still records and performs today, even if she isn't hitting the US charts.  More impressive is that she has recorded and performed in not just English, but also French, Italian, and Spanish, which means she can sing better in at least four languages than I do in one.
Forgetting "Chains"
As frustrating as it is for listeners not to hear songs they liked back in the day on the radio, it must be doubly frustrating an artist not to get airplay from her local radio stations.  Said Ms. Arena in an interview with The Guardian about the fact that only "Smooth FM" would play her in her native Melbourne (language warning), "I hated the fact I hit 40 and radio wouldn't play me."
And as for here in the US?  I haven't heard this song on the radio since its original chart run.  And that's too bad.
* You'd think that would be the highest debut of the week, but SWV debuted "You're the One" in the top 10 that week. Such is life.
** And I can't link the magazine because Billboard didn't even publish this chart at the time.
*** One single just missed, hitting #3 on the Bubbling Under chart.
Note: this post contains affiliate links. View my affiliate link disclaimer here.