Ask most music fans to associate Foreigner with a particular era, and you'll likely hear them direct you to the late 70s/early 80s.  To be sure, that era was Foreigner's heyday, but the band did place one hit onto the Hot 100 well into the 90s.  That one hit was a power ballad called "Until the End of Time".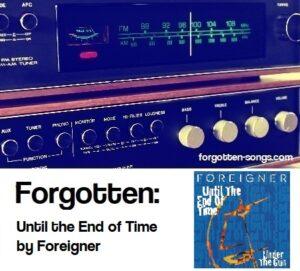 Foreigner in the 90s
When the 1990s began, Foreigner was far from its peak.  Lead singer Lou Gramm had left the group, mostly due to differences with charter member Mick Jones.  Without him, the group's 1991 album Unusual Heat had been, by far, Foreigner's worst-performing; whereas every single Foreigner album before this had hit the top 20 (with all but one hitting the top 10), Unusual Heat could do no better than #117.
Perhaps it was the relatively poor performance of Unusual Heat, or perhaps it was because two more longtime members of Foreigner had left the group around the same time, but for whatever reason, Mssrs. Jones and Gramm met together, which led to Mr. Gramm's rejoining.
Now on a new label (Arista) and with Mr. Gramm back on lead vocals, Foreigner released Mr. Moonlight in 1994 (though it would be 1995 before the album appeared in the United States).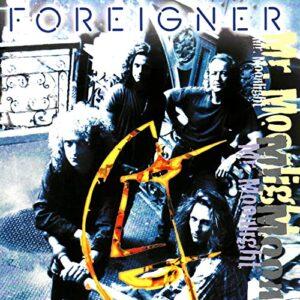 (Mr. Moonlight peaked at #136 on the Billboard 200. Album ℗1994 BMG Music.)
The Single
The third single from Mr. Moonlight was a power ballad that, to some degree (at least to me), called back to Foreigner's 1985 #1 single "I Want To Know What Love Is".  In this song, our protagonist has apparently had his share of the foolishness of youth, running away from love and all that.  Now that he has found his true love, he wants to remain with her, well, forever.  Hence the name.
Chart Performance
"Until the End of Time" was the highest debuting song on Billboard's Hot 100 for the week ending March 18, 1995, though its position was a modest #89 (chart | magazine).  Its peak was just short of the top 40, landing at #42 for the week ending May 6 (chart | magazine).  It also peaked that same week at #38 on the Hot 100 Radio Airplay chart (chart – Billboard Pros only) and, one week earlier, at #8 on the Adult Contemporary chart (chart – Billboard Pros only | magazine).  Its performance on the Adult Contemporary chart was good enough for the song to be ranked #28 on the 1995 year-end chart (magazine).
Foreigner After "Until the End of Time"
Alas, Mr. Moonlight, the supposed comeback album of Foreigner, was not a commercial success, and "Until the End of Time" would prove to be Foreigner's final entry in the Hot 100.
The group continued to tour afterward, but no further albums would be released for over a decade.  During that decade, Mr. Gramm left the group again, and for the same reason as before.  He's made a few appearances with the group since then, but by and large, he and Foreigner have moved on.
With that said, Foreigner is still touring as of this writing, though only Mick Jones remains out of the original members.
Forgetting "Until the End of Time"
It's been this author's observation that power ballads that have their highest peaks on the AC chart don't last on radio.  Or, perhaps early 1995 pop radio in general didn't have much staying power. A quick perusal of the Hot 100 from the debut week of "Until the End of Time" shows just a few songs that get any airplay anywhere*…which is a shame.
* Most of that airplay consists, as far as I can tell, of Sheryl Crow, TLC, and Adina Howard.  Make of that what you will.
Note: this post contains affiliate links. View my affiliate link disclaimer here.