The 1980s, among many things, provided a lot of successful dance artists who weren't really able to duplicate that same success on the pop charts.  Perhaps one of the most prominent artists on that front was the mononymous Alisha, who had five tracks hit the top 10 of Billboard's dance chart, but never got a track into the top half of the Hot 100.  Even the track that actually topped the dance chart didn't get any traction on the pop chart.  You might not even remember "Baby Talk" today…or do you?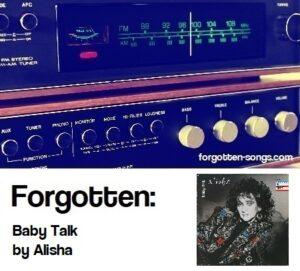 About Alisha
How forgotten is Alisha?  Well, her AllMusic page doesn't even include a biography at this writing.  I can't remember the last time I found an artist without an AllMusic bio.  Oh, well; we can instead learn about Alisha's story from People Magazine.  Granted, People only gave her four paragraphs a long time ago, but at this point we'll take what we can get.
Alisha Ann Itkin started early in the music business.  Her parents apparently saw her talent early, as they got a demo tape made when she was just 14.  They sent it off to a bunch of record labels; one of them, Vanguard Records, ended up signing her.  Vanguard paired Alisha up with producer Mark Berry, and Mr. Berry gave her a song called "All Night Passion", calling her a "great voice" to record it.  His faith was justified when the single shot up to #4 on the dance chart in early 1984, right around the time when Alisha was turning 16.  Yeah, 16.
The success of "All Night Passion" sent Alisha and Mr. Berry into the studio, where she recorded a full album, fittingly called Alisha.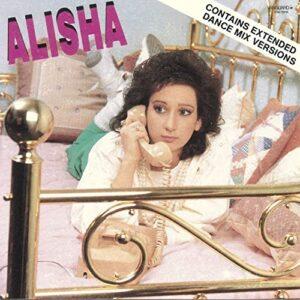 (Alisha did not make the Billboard Top Pop Albums chart. Album ℗1985 Vanguard Records.)
The Single
The third single from Alisha (assuming "All Night Passion", which preceded the album by about a year, was the first) was "Baby Talk".  A fairly faithful remake of an obscure British recording* by someone named Gregg Brown, Alisha's version benefits from Mr. Berry's production.  The single also likely benefited from being her first single to have its own video.
Chart Performance
As with many dance tracks, "Baby Talk" hit the dance charts before charting on any of the others.  It ended 1985 atop  what was then called the Hot Dance/Disco Club Play chart (chart – Billboard Pros only | magazine).  The single stayed at #1 for two weeks, benefiting from the charts' being frozen over the New Year's holiday.
"Baby Talk" had barely entered Billboard's Hot 100 when it topped the dance chart; it debuted at #90 for the week ending December 21, 1985 (chart | magazine).  It climbed slowly, peaking at #68 on February 8, 1986 (chart | magazine).  But if "Baby Talk" climbed slowly, it fell even more slowly; it was another two months before it finally fell out of the Hot 100.    17 weeks on the chart was pretty impressive for any song in 1985-1986, particularly one with as low a peak as "Baby Talk" had.**  Obviously, though, 17 weeks spent entirely on the bottom half of the Hot 100 did not get the track onto the year-end chart.  (It did make the top ten on the 1986 year-end dance charts, unsurprisingly. (magazine))
Alisha after "Baby Talk"
Alisha, for those who followed the pop charts but not necessarily the dance charts back in the mid-80s, might perhaps be best known for recording the Diane Warren-penned "Do You Dream About Me", which was featured prominently in the middle of the cult movie classic Mannequin.  Other than that, she recorded two more albums and the occasional single.  She doesn't appear to be recording much these days, but she is definitely still performing.
For more information (since the web has basically let me down on this one), take 16 minutes and check out "Alisha: Rise of an 80s Icon".  Alisha, now a mother of three, appears to be very down-to-earth about her life and her fame.
"Baby Talk" itself still gets the very occasional spin.  At least, it pops up every so often on public radio shows like "Crap From the Past".  It would be great to hear a commercial station play "Baby Talk", say, on some sort of 80s dance party show.
* So obscure, apparently, that it doesn't even appear to be available on Amazon.
** For comparison, Sting's top-20 "Russians", which fell off the same week, only spent 13 weeks on the chart.
Note: this post contains affiliate links. View my affiliate link disclaimer here.