By pretty much any standard, The Art of Noise is one of the most unique groups to come out of the 1980s.  What started out with a solid pedigree went in a direction no one but its members could have predicted.  And it was without the group's most famous member that the group had its biggest successes.  A few of those successes even made it onto the US charts, including one with a very 80s character.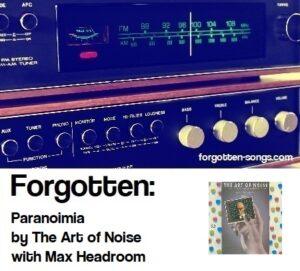 About The Art of Noise
The origin of The Art of Noise has, as a prominent point, a piece of equipment – specifically, the Fairlight CMI sampler*.  Vintage Synth Explorer describes this "horribly expensive" item thus:
An incredible sampler with 28 megabytes or more of memory! One or two full 73 note velocity sensitive keyboards! Complete synthesis and editing of digitally sampled sounds.
First introduced in 1979, the Fairlight CMI found an early adopter in fairly well-known producer Trevor Horn.  The Art of Noise's website explains how things developed from there:
Art of Noise were formed after Gary Langan and JJ Jeczalik started to sample a drum riff that had been scrapped by the rock group Yes for band's album 90125 that was being produced by Trevor Horn. It was the very first time that an entire drum riff had been sampled on a Fairlight C.M.I. sampler using the then new Page R sequencer, that allowed the programmer to sequence anything that had been sampled.
Anne Dudley joined soon after "to provide the melodies", while Mr. Horn brought in one of his partners, Paul Morley.  Thus, the core of the group was formed.  The Art of Noise very quickly had success on both the British charts and the US dance charts.
Alas, things did not remain happy for the Art of Noise.  A nasty split developed over the direction of the group, as well as the amount of credit Mssrs. Horn and Morley were receiving.  And so it happened that the group eventually moved on without those two.  (More could, and has, been written about this split than is necessary on this page.)
Enter Max Headroom
One of the characters that most defined the 1980s, Max Headroom was conceived initially to host a music video program in the UK.  (Music videos used to be a thing on television – I believe the USA once had a channel or two dedicated to them.  A long time ago.)  Originally, the concept the creators had was to put graphics between the videos.  Well, co-creator Rocky Morton had a few thoughts:
I said…that, you know, this is a really boring idea. We're taking these music videos, which are really incredible, and then linking them together with stupid bits of graphics. It's just not interesting.

I thought, maybe I should go with the whole idea of it being boring. What's the most boring thing I could do just to annoy everybody? And the most boring thing that I could think of to do, which would really go against the grain for the MTV generation … was a talking head: a middle-class white male in a suit, talking to them in a really boring way about music videos.

And I thought, "Oh yeah, I'm on to something here. This is really dull and uninteresting."
The idea came to make this character look computer-generated.  Enter American actor Matt Frewer, who was living in the UK at the time, and Max had his signature look.  And, just like that, the creators had The Max Headroom Show.  It started out on Channel Four and eventually also turned up the US's Cinemax.**
To give Max a bit of a backstory, the creators came up with a dystopian, cyberpunk world in which Max was "created".  Called Max Headroom: 20 Minutes Into the Future, the story showed that Max came from a digital recording of reporter Edison Carter's mind.  And then it got weird.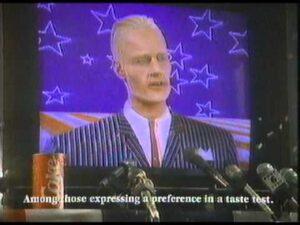 Advertising New Coke was not part of the dystopian backstory…or was it?
The Art of Noise Meets Max
So how did the history of these two…iconic…acts come together?  Well, the Art of Noise performed the theme to The Max Headroom Show.  Following that, Max, I suppose, returned the favor, lending his voice to a track from the Art of Noise's then-current album, In Visible Silence.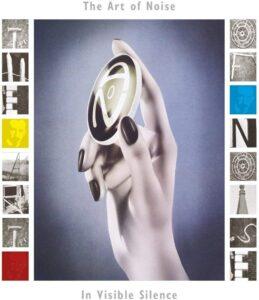 (In Visible Silence peaked at #53 on the Billboard Top Pop Albums chart. Album ℗1986 Chrysalis Records, Ltd.)
The track in question was entitled "Paranoimia", which combines paranoia and insomnia into a catchy little portmanteau.  Max's vocals were added, with him talking about (in the 7″ single, at least) him struggling to get to sleep, while most likely not being helped by the loud music and voice yelling "paranoimia" throughout the song.***
Chart History
The remix of "Paranoimia" entered Billboard's Hot 100 the week of August 16, 1986 at a modest #93 (chart | magazine).  It peaked at #34 in its eighth week (chart | magazine), which seems a bit low to me, given how much I remember hearing it on top 40 radio at the time.  The song's low peak and its 12 weeks on the chart, not surprisingly, did not land "Paranoimia" on the year-end chart for 1986.
With that said, the single performed better on other charts, especially the Hot Dance/Disco chart, where it peaked at #14 on September 27 (chart – Billboard Pros only | magazine).
After "Paranoimia"
Both the Art of Noise and Max Headroom had a bit more success before the 80s ended…and both didn't really survive the decade.
The Art of Noise had one more top 40 hit, collaborating with Tom Jones in a remake of Prince's "Kiss".  By 1990, Ms. Dudley and Mr. Jeczalik had basically disbanded the group.  There have been a couple of somewhat short-lived reunions since then.
And as for Max?  His talk/video/whatever show survived into 1987 (its final season being produced solely by Cinemax and never airing on Channel Four).  Readers who remember things like "Paranoimia" will probably also remember ABC's Max Headroom, which started out, well, loosely based on 20 Minutes Into The Future.  Honestly, ABC didn't really know what to do with a cyberpunk series like Max Headroom, and so they threw it into a death slot for its second season, sacrificing the series to ratings stalwarts Dallas and Miami Vice (to which Max himself alluded in the final episode).
And the single itself?  Obviously a novelty, it had little staying power on top 40 radio after its chart run, even in those 80s flashback shows (at least the ones that don't replay the top 40).  I'd love to hear it on the radio again.
Buy the MP3: Paranoimia
* "CMI", in this case, stands for "computer musical instrument".
** You know, back when Cinemax didn't have the reputation for late-night adult programming…ah, who am I kidding? They always had that rep.
*** The 12″ also features Max talking, but about something else entirely.
Note: this post contains affiliate links. View my affiliate link disclaimer here.