If someone mentions yacht rock, undoubtedly one of the first people to come to mind for lovers of that subgenre would be Christopher Cross.   I would argue that it was in 1980, when his debut album hit the top 10, that yacht rock hit its peak.  And why not?  Not everyone had signed on to the waning disco fad, and certainly not everyone was listening to new wave music.  Yacht rock filled a void, and Christopher Cross was there to help fill it.
Yet now, almost four decades later, while other music from that time still gets radio airplay, Mr. Cross's music has seemingly disappeared.  When, for example, was the last time you heard his #1 AC hit "Never Be the Same"?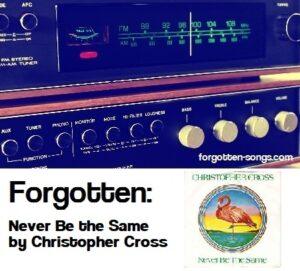 Apropos of nothing: when I get around to spotlighting @itsMrCross on my page, the song I'd choose would definitely be "Never Be The Same". I'm pretty sure I have the 45 somewhere in the house.

— Forgotten Songs (@SongForgotten) June 7, 2019

The one like on this tweet as of this writing was from Christopher Cross himself.*
The early years of Christopher Cross
There isn't too much information online about Christopher Cross prior to his music career, interestingly enough.  As AllMusic states, the man born Christopher Geppert started out in a cover band called Flash, based out of my former home of Austin.  He parlayed this into a contract with Warner Bros. Records in 1978.
A year or so later, Mr. Cross issued his first, eponymous, album.  This album also featured a few voices familiar to top 40 listeners of the time, such as Michael McDonald and Nicolette Larson.  It resonated with the record-buying public and went 5x platinum; it also won him no fewer than five Grammy Awards.  (And, apparently, per Mr. Cross's website, the flamingo featured on its cover was a piece of artwork painted by one of his original band members.)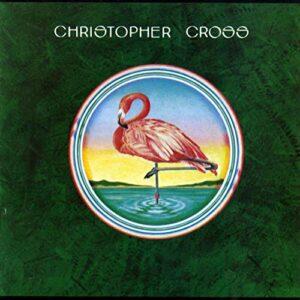 (Christopher Cross peaked at #6 on Billboard's Hot LPs & Tape chart. Album ℗1979 Warner Bros. Records Inc. Photo courtesy Amazon.)
Early Successes
Right around the time Christopher Cross was released, the era of disco's dominance was coming to a fairly quick end.  Many top 40 listeners turned to the smooth, yacht rock sounds of artists like Mr. Cross.  The first single from his album, "Ride Like the Wind", spent four weeks at #2, kept out all four of those weeks by the number one song of 1980, Blondie's "Call Me".  The second single, "Sailing", wasn't actually as big a hit as "Ride Like the Wind", though it did manage to make it to #1.
While "Sailing" was still on the chart, the third single, "Never Be the Same", a straightforward song about memories of a long-gone love, was released.
Chart Performance
"Never Be the Same" entered Billboard's Hot 100 as the highest debuting single for the week, coming in at #75 for the week ending October 11, 1980 (chart | magazine).  It peaked at #15 in its eighth week (chart | magazine) and remained there for three weeks before beginning its descent.  From there, it remained in the top 40 into 1981 before continuing its drop.  In all, it spent 19 weeks on the chart.
The song performed much better on the Adult Contemporary chart (which was then called Hot Adult Contemporary Tracks).  It spent 18 weeks on that chart, one less than it spent on the Hot 100.  However, it spent two weeks at #1 on that chart, starting with the week ending December 13, 1980 (chart | magazine).
While "Never Be the Same" did not make Billboard's year-end Hot 100 for either 1980 or 1981 (unlike three other Christopher Cross songs), it did make it onto the year-end Adult Contemporary chart for 1981 at #31 (magazine).
After "Never Be the Same"
There was one more single released from Christopher Cross after that.  "Say You'll Be Mine" peaked at #20 in May 1981.  Following that, Mr. Cross contributed "Arthur's Theme (Best That You Can Do)" to the soundtrack of, obviously, the movie Arthur.  That single was his second and, to date, final #1 hit and was certified gold.
His next album, Another Page (which featured another flamingo on its cover), peaked at #11; it, also, was certified gold.  It spawned three more top 40 singles, one of which hit the top 10 and another the top 20.
Alas, just as quickly as the popularity of yacht rock brought Christopher Cross to the forefront, the shifting trends of top 40 music moved away from Mr. Cross's sound.  His 1985 album, Every Turn Of The World, underperformed on the album charts, and when 1988's Back Of My Mind failed to make the album chart at all, Mr. Cross was dropped by Warner Bros.
Today, Mr. Cross continues to record and perform.  He is also (as of this writing) active on Twitter as @itsMrCross.  And yes, the flamingo still turns up occasionally on his albums.
* Yes, I do have the 45. I found it with a bunch of used records in a shop in California and had to buy it.
Note: this post contains affiliate links. View my affiliate link disclaimer here.