There were a couple of years when the tide of pop music turned so completely that a lot of songs, and even a lot of artists, were eventually forgotten by both American radio and a good portion of the listening public.  A lot of talented artists, with a fair number of big hits, were swept away by the tides of history.  1979 was one year, when the anti-disco backlash finally boiled over, and a lot of the big artists of the day disappeared quickly.  The other year I can think of in which such a dramatic change came was 1991, and one of the artists left behind in that transition was Stacy Earl.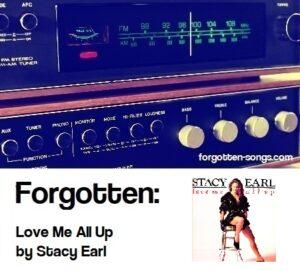 Biographical info?  What biographical info?
I suppose what really defines a forgotten artist is that biographical information on that artist is pretty hard to find anywhere.  Such is the case for Stacy Earl.  Allmusic and even Wikipedia have sparse data at best.  A lot of what is available comes from the long-dormant Rare and Obscure Music blog, and pretty much nowhere else.
Per my only source of early biographical info, Stacy Ellen Earl came from Boston, moving to New York after high school to do some session work and take acting lessons.  She returned to Boston, where she eventually attracted the attention of RCA Records.
And what was that about 1991?
By 1991, contemporary hit radio (top 40) was splintering. There were still top 40 stations playing the full spectrum of songs that actually occupied the top 40 slots on the Hot 100, but some stations were trending toward more of a hip-hop sound. At the same time, some stations (notably in my part of the country, 97.1 the Eagle (KEGL) in Dallas/Ft. Worth) eventually trended toward rock, while still other formerly great stations (such as, off the top of my head, KAY-107 (KAYI) in Tulsa) turned to a format called "adult top 40", which they advertised as having "no hard rock and no rap". Basically, adult top 40 was watered-down radio.  Then, of course, grunge appeared, and a good portion of the decade's hit music came from alternative rock stations.
It was in this period when RCA released Stacy Earl's self-titled debut album.  Did the shakeup in the top 40 sound kill its prospects?  No,* but I have to think it would have fared better had it been released six months sooner.  But, as it was, it was released in January 1992, well after its debut single had started climbing the charts.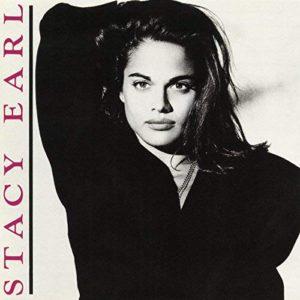 (Stacy Earl did not chart on Billboard's Top 200 Pop Albums chart, but it did reach #16 on the Heatseekers Albums chart. Album ℗1991 RCA Records.  Photo courtesy Amazon.)
The Single
The first single from Stacy Earl, "Love Me All Up", is a pretty straightforward song entreating her lover to come to her.  This simple request comes wrapped in a pretty good beat and a catchy tune.**
Chart Performance
"Love Me All Up" entered Billboard's Hot 100 at #96 for the week ending November 16, 1991 (chart).  It peaked at #26 just over two months later (chart), but that wasn't the entirety of its success.  As I said, the top 40 scene had splintered by then, and by January 1992, countdown shows were basing their charts mostly on airplay.  "Love Me All Up" fared better, for example, on Billboard's Hot 100 Airplay list (which "American Top 40" was using by then), peaking at #18 the first week in January (chart).  The single spent 17 weeks on the airplay chart and 18 on the Hot 100.  It did not make the year-end chart for 1992, though.
Of course, it didn't help songs like "Love Me All Up" that some adult top 40 stations, such as, for example, KAY-107, didn't even play some of the best dance tracks from the period.  Sadly, that was the fate of Stacy Earl's first hit.  Again, might things have been different had it been released a few months earlier?  We can only wonder.
After "Love Me All Up"
For whatever reason (again, not much information seems to be available), Stacy Earl's first album turned out to be her only album.  It did yield two more singles, one of which ("Romeo & Juliet"), which featured the Wild Pair***, also hit the top 30.  A third single, "Slowly", failed to make the top 50.  Ms. Earl recorded one song for the movie "Untamed Heart" a year later, though that song was not included on the soundtrack.
After that, Stacy Earl disappeared for over a decade.  She finally resurfaced much later, making a cameo appearance in the 2008 film "Crazy".  Two or three years later, she recorded two songs for the soundtrack of the film "The 5th Quarter"; her voice in these songs sounds pretty much exactly the same – just as good – as it had back in 1991.
Radio Forgets Stacy Earl
I last heard "Love Me All Up" on commercial radio probably in late 1992, when my local top 40 station played it one time.  It still pops up very occasionally, though, on Ron "Boogiemonster" Gerber's very much non-commercial radio show "Crap From the Past".
And how forgotten is "Love Me All Up"?  Until 2018, Amazon didn't even offer it as an MP3 download, which is why I had links to purchase Stacy Earl's first single and self-titled album:
Also in 2018, Spotify finally added the entire album to its library.  But, for those who, like me, loved to jam out to this song back in its day, some classic hits radio station needs to dig this one out.
* These types of transitions in top 40 radio took a while to complete. That is why my own blog has disco hits released well into 1980.
** Incidentally, it was co-written by Richard Rudolph, who was the husband and widower of Minnie Riperton, who has been featured on this page previously.
*** The Wild Pair is almost certainly best known for contributing vocals to Paula Abdul's "Opposites Attract".
Note: this post contains affiliate links. View my affiliate link disclaimer here.