Sometimes a recording artist will find chart success early in his or her career and then, despite years, or even decades, of further recordings, will never reach the charts again.  To add insult to injury, for some of those artists, their one and only hit is left behind by radio after its original chart run.  That almost perfectly describes the career of Polly Brown.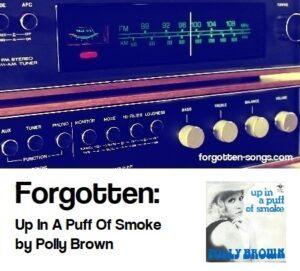 Who is Polly Brown?
Born in Birmingham, England in 1947, Polly Browne (with an E, per some sources) was a member of a couple of groups called Pickettywitch and Sweet Dreams, both of which managed to hit the UK charts with at least one song. She also got a little bit of fame, which turned later to a little bit of notoriety, through a sham "engagement" to now-disgraced Top of the Pops presenter Jimmy Savile in 1972.  Ms. Brown's statement to the Sunday Telegraph when Mr. Savile's extensive wrongdoing (about which Ms. Brown had no knowledge) came out was rather succinct:
"If your inquiry is about the 'engagement' publicity stunt in '72, I'm gold to say that's all it was."
In the mid-70s, Ms. Brown released her second solo album (her first not having done much), entitled Special Delivery.  As it turned out, the first single from the album (which came out before the album did) was the very first single released by GTO Records.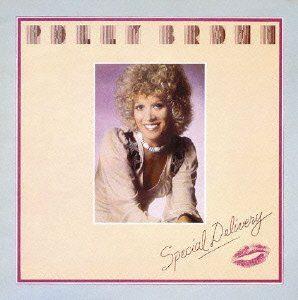 (Special Delivery did not appear on Billboard's Top LPs and Tape chart. Album ℗1974 GTO Records Ltd.  Photo courtesy Amazon.com.)
The Single
The first single, "Up in a Puff of Smoke", was yet another love-gone-wrong song.  It was written and produced by Gerry Shury and Ron Roker, who had noticed Polly Brown during her Pickettywitch days.  As Mr. Shury put it, both men were in love with her voice:
We were both in love with her vocal sound which was soulfully sweet sounding and between Diana Ross and Dionne Warwick.
Chart Performance
"Up in a Puff of Smoke" only peaked at #43 in Polly Brown's native UK, but in the USA, it performed quite a bit better.  It entered Billboard's Hot 100 at #99 for the week ending January 4, 1975 (chart | magazine) and made it all the way to the top 20, peaking at #16 for the week ending March 15, 1975 (chart).  It spent 13 weeks on the chart, which was a respectable performance but not quite good enough to make Billboard's year-end chart for 1975.
As it turned out, Special Delivery was Polly Brown's final solo album.  She has recorded some since then (and one other track, the title track from Special Delivery, scraped the bottom of what was then called the Soul chart), but with little success as far as the charts are concerned.
And will you hear Polly Brown on your local classic hits station anytime soon?  Signs point to no.  That's too bad, as it is a good representative of early disco.  It deserves a few more spins.
As a postscript:  if you are wondering just how forgotten this song is, the only MP3s Amazon has are re-recordings.  (Apple Music has the original version, though: see above.)  If you want to buy the original from Amazon, be prepared to buy Special Delivery as an import CD or find the song on vinyl. Here, for instance.
Update:  As of January 2022, an MP3 of the original version has appeared at Amazon!
Note: this post contains affiliate links. View my affiliate link disclaimer here.