The early 1970s, more than any other time during the rock era, was good for instrumental hits.  Several instrumentals made the top ten during that period, and no fewer than three of them ("Frankenstein", "Love's Theme", and "TSOP (The Sound of Philadelphia") went all the way to number one.  One of those who capitalized on the then-popularity of instrumental music was a British musician named Tom Parker, along with his band, Apollo 100.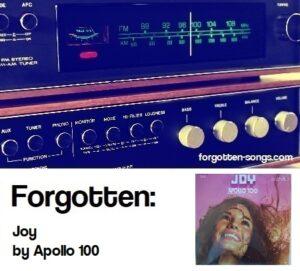 The beginnings of Apollo 100
Not to be confused with Colonel Tom Parker, Elvis's manager, the Tom Parker about whom I am writing was proficient with multiple different instruments, starting with piano and incorporating several others.  A session musician, Mr. Parker had played with several bands in the years prior to forming Apollo 100 in 1972.
Things started off quite well for Apollo 100, with their first album, Joy, quickly hitting the charts.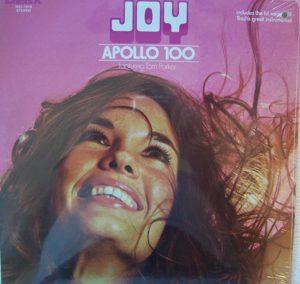 (Joy peaked at #47 on Billboard's Top LPs and Tape chart. Album ℗1972 Mega Records.  Photo courtesy Amazon.)
The Single
The title single from Joy was very nearly a note-for-note remake of portions of "Jesu, Joy of Man's Desiring"*, as interpreted by the British band Jigsaw, later much more well known for "Sky High".  (Of course, "Jesu, Joy of Man's Desiring" was originally a work by Johann Sebastian Bach.)
Chart Performance
With the shortened title "Joy", Apollo 100 debuted its single on Billboard's Hot 100, just barely, at #100 for the week ending January 1, 1972 (chart | magazine).  Happy new year, Apollo 100.
The single made its way up to the top ten, peaking at #6 for the week ending February 26, 1972 (chart | magazine).  After peaking, "Joy" hung in the top 20 for another three weeks before starting a precipitous decline which ended in a nosedive right off the chart from #52.  "Joy" spent 14 weeks in the Hot 100 altogether and ended the year as the #71 single.
Apollo 100 After "Joy"
"Joy" comprised pretty much all the success Apollo 100 was to have.  A follow-up single with the ever-so-catchy title "Mendelssohn's 4th (Second Movement)" peaked at #94, and after that, Apollo 100 never hit the Hot 100 again, though the group did place a third song on the Adult Contemporary chart (which was called the Easy Listening chart at the time).
Today, from my observations, instrumental hits, for the most part, are completely absent from the playlists of classic rock or classic hits stations (except for a very small few, including the aforementioned "Frankenstein" and "TSOP"…I haven't heard "Love's Theme" on American terrestrial radio in a while).  "Joy", while not having appeared much on radio in recent years**, has made its way into a few commercials here and there.  The commercials were nice, but it would be nice to hear this on the radio again.
Like these songs? Buy me a coffee!
* A version, mind you, that doesn't even appear on Amazon.
** This is not to say that it doesn't play at all…I know, for example, that WLNG on Long Island played it in the past 24 hours (as of this writing).  With that said, the last time I heard it on the radio was probably over 15 years ago.
Note: this post contains affiliate links. View my affiliate link disclaimer here.