I'm not gonna lie:  what made me think of this song originally was a comment by a politician who stated, "I'm all in favor of girls with guns who know their purpose."  How could this child of the 80s not think of Tommy Shaw?
When Tommy Shaw Went Solo
Tommy Shaw, as most students of pop music history probably know, was the lead guitarist for Styx through the late 70s and early 80s.  He also wrote and sang lead vocals on several of Styx's tracks, including "Fooling Yourself (The Angry Young Man)" and the top 10 hit "Too Much Time On My Hands".
But all was not well with Styx.  Mr. Shaw was not happy with the direction in which others (mostly Dennis DeYoung) wanted to take the band.  In 1984, he had had enough and quit the band, which broke up around that time anyway.
From there, Tommy Shaw moved to a solo career, releasing three solo albums in the mid-80s.  He wrote or co-wrote all the tracks on all three albums, which, I suppose, is a pretty good way to ensure you are singing the songs you want to sing.  His first, and most successful, solo album, which came to mind after I heard the statement above, was called Girls With Guns.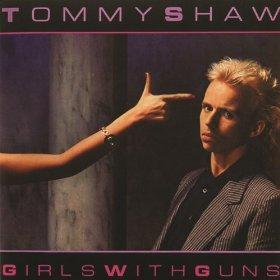 (Girls With Guns peaked at #50 on Billboard's Top 200 Albums chart. Album ℗1984 A&M Records.  Photo courtesy Amazon.)
The title track of Girls With Guns was the first single to be released.  It should be noted that, as I and others (such as "cassiemay10" over at SongMeanings.net) understand it, Mr. Shaw was writing not necessarily about girls carrying actual guns, but about strong, independent women. (It should be noted that in a comment on the original version of this post, Cassie May commented: "I agree; this is an unfairly forgotten song. 'Girls With Guns' is a great song, and an overall pretty good album.")
Chart Performance
"Girls With Guns" entered Billboard's Hot 100 at #76 for the week ending September 29, 1984 (chart).  It spent a grand total of three weeks on the Top 40 charts and peaked at #33 on November 17, 1984 (chart | magazine) before falling completely out of the Top 40 the following week.  All in all, it spent 12 weeks in the Hot 100.
An interesting trait about the video for this track is that it is all one take; there are no cuts, which is quite different from the frenetic editing seen in most videos that I've ever watched.  Last I checked, it was pretty easy to find on YouTube.
After "Girls With Guns"
"Girls With Guns" turned out to be Mr. Shaw's only top 40 solo appearance.  One follow-up single from his debut album entered the Hot 100 but didn't come close to approaching the top 40, and one track from each of his other two solo albums made brief visits to the bottom of the Hot 100.
Of course, things went a bit better for Tommy Shaw after that.  He helped form the supergroup Damn Yankees, which had a good deal of success in the early 90s.
These days, Tommy Shaw leads a reformed Styx (though without Dennis DeYoung), which continues to record (very occasionally) and perform.
As for "Girls With Guns":  as is usual with this site, I have almost never heard this song on the radio in the past twentysomething years, though it has turned up occasionally on  "Crap From the Past", which is a pretty good public radio show for hearing forgotten songs.
Note: this post contains affiliate links. View my affiliate link disclaimer here.