I can hear you now:  "Really?  A Madonna song?  How can anything by Madonna be forgotten?"  (This may not in reality be what you are saying, but as this is my blog I get to assume that you are in fact saying these things just after reading the title to this entry, and so we'll proceed from that assumption.)
Well, if I were to consider Madonna's career in pop music, I would say that the Erotica album/era is in fact the most forgotten portion.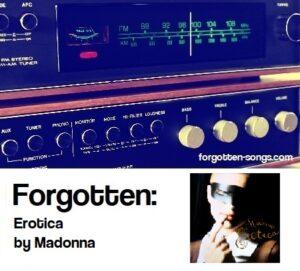 Madonna in the Early 90s
And why is it that this era of her music was so forgotten?  Perhaps it is because Madonna was at that time infamous for making a coffee table book in which she was wearing very little, if any, clothing.  (Now she's just infamous for continuing to dress as if she were still that age.)  Or it may have been because the songs from this album were not as successful as singles from other albums of hers.  Wikipedia reports that no song from her 1992 album Erotica charted any higher than number three.  Or maybe the pop-music populace didn't care as much for the songs of that era in which, as Idolator.com says (in a list of the 10 most forgotten Madonna songs–in which "Erotica" does not appear), Madonna "gabbed through tracks rather than singing on them."
The Single
The first single from Erotica was its title track.  According to commenter "BLT" at SongMeanings.net, Madonna intended this song to serve as a fantasy of "crazy and nasty things that go through [one's] mind," but are never acted on.
The video, which may presently be found on YouTube, was banned by MTV for content reasons, which, given the high standards of MTV, should tell you a lot.  This video will not be presented here, sorry.
Chart Performance
"Erotica" had one of the highest debuts for its era; it first charted on Billboard's Hot 100 at number thirteen for the week ending October 17, 1992 (chart | magazine) and reached its peak position of number three the next week (chart | magazine), lasting 18 weeks on the Hot 100.  It also reached number two on Billboard's airplay chart (debuting and peaking at that position on October 17*), which makes it doubly strange to me that it now receives, as far as I can tell, absolutely no airplay now.
Forgetting "Erotica"
In any case, regardless of the reason, I personally do not believe that I have heard the title track on any radio station since its original run on the Hot 100 in late 1992/early 1993.  And this I find rather strange, since it had such a strong debut.  But then, there were so many other Madonna hits that, I suppose, it would make sense for some songs to disappear from radio.