Rita Coolidge was one of those artists who could have been known for many different things during her career.  She had some success with then-husband Kris Kristofferson. Before that, according to multiple accounts, she wrote the piano coda of the Derek and the Dominoes classic "Layla".  But I would imagine most people remember her best for a string of hits in the late 70s, all of which were remakes. Two of those were top ten hits (though even those are not getting much airplay these days), but how many of my readers remember a top 30 hit entitled, simply enough, "You"?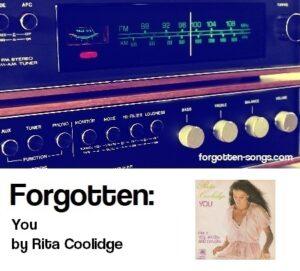 The early years of Rita Coolidge
Rita Coolidge's biography, per her own website, honestly, doesn't cover much of her life from before the 21st century, but Allmusic tells of her beginnings as a songwriter, backup vocalist, and jingle singer.  Ms. Coolidge's songwriting talents yielded the melody which became the piano coda in "Layla", though, as her website points out, she never received credit for this.  Several sources appear to corroborate her claim to have written it, however, including Bobby Whitlock of Derek of the Dominoes, though he didn't care for it:
The original single did not have it and it was great without it. When we played it the two times that we did it was sans piano. That piano part in my opinion has nothing to do with this song that Eric [Clapton] wrote entirely himself. It's about his experience. Not Jim's! Jim [Gordon, the band's drummer] took that piano melody from his ex-girlfriend Rita Coolidge. I know because in the [Delaney & Bonnie] days I lived in John Garfield's old house in the Hollywood Hills and there was a guest house with an upright piano in it. Rita and Jim were up there in the guest house and invited me to join in on writing this song with them called "Time". I didn't hear it as rock 'n' roll and bowed out of the little songwriting session. Her sister Priscilla wound up recording it with Booker T. Jones. I still don't think that it's rock 'n' roll and really has no place on Eric's incredibly soul on the line for the world to hear song about his world and his experience. Jim took the melody from Rita's song and didn't give her credit for writing it. Her boyfriend ripped her off. I knew but nobody would listen to or believe me. I have told this story for years. That piano coda taints the integrity of this incredibly beautiful song. It has no place on it.
Chart Success
Regardless of people's feelings about the "Layla" coda, Rita Coolidge ended up getting her own recording contract with A&M.  She recorded for several years, including several solo albums and three with Mr. Kristofferson, without a lot of pop chart success.*  That changed in 1977 with her top-ten platinum album Anytime…Anywhere, which included "(Your Love Has Lifted Me) Higher and Higher", a #2 remake of a Jackie Wilson classic, and "We're All Alone", a #7 remake of a Boz Scaggs B-side.
Apparently not wanting to waste any time after the success of Anytime…Anywhere, Ms. Coolidge released Love Me Again about two months after the last single from the previous album had dropped off the charts.  While it didn't reach the same level of success as its predecessor, Love Me Again did quite well.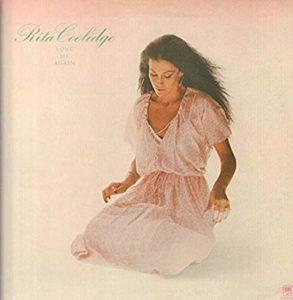 (Love Me Again peaked at #32 on Billboard's Top LPs & Tape chart. Album ℗1978 A&M Records.  Photo courtesy Amazon.)
The Single
In keeping with her recent hits before Love Me Again, the first single released from the album was a remake. "You" was a remake of a single by Australian singer Marcia Hines, released the previous year.  While Ms. Hines's version was a #2 smash in her native Australia, it was never released in North America at all.  Ms. Coolidge's version of "You" has been described as more mellow than that of Ms. Hines, but it still maintains the disco sound of the original.
Chart Performance
"You" entered Billboard's Hot 100 at #83 for the week ending July 1, 1978 (chart | magazine).  It made a fairly steady climb up the charts before peaking at #25 seven weeks later (chart | magazine).  It held there for another week before moving back down rather quickly.  In all, it spent 12 weeks on the Hot 100.  "You" did not appear on the 1978 year end chart, though "We're All Alone", which had peaked in November 1977, did.  Go figure.**
The single performed much better on Billboard's Adult Contemporary chart, spending 17 weeks there and peaking at #3 in early August 1978 (chart | magazine).
After "You"
Rita Coolidge continued to record for several years following Love Me Again, landing two more singles on the top 40 before stepping away from the music business for a while.  These days, she is recording again, occasionally, and she is still performing as well.
For some reason, pretty much none of Rita Coolidge's singles get much airplay on terrestrial radio these days.  I would enjoy hearing them on the radio again.  How about "You"?
Like these songs? Buy me a coffee!
* They did win a couple of Grammys recording together, though.
** Yes, I know Billboard used a period from mid-November to mid-November to determine its year-end chart back then.
Note: this post contains affiliate links. View my affiliate link disclaimer here.