As a child of the 70s, and specifically, a child whose mother listened to a radio station whose format was called "middle of the road" back then (but would have been called adult contemporary now), I heard quite a bit of music from Captain & Tennille.  At the time, though, I had never heard of one of their early hits, "The Way I Want To Touch You".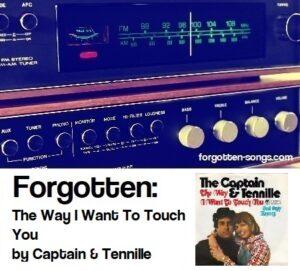 What We Remember About Captain & Tennille
To be more precise, I heard two songs by Daryl "Captain" Dragon & Toni Tennille a lot back in the day.  And so, I'm sure, did a lot of you, and they were probably those same two songs:  "Love Will Keep Us Together"  and "Do That To Me One More Time", but I never heard any of their other hits, or at least I never heard them played as recurrents for years after their original release, and I was young enough not to remember their original chart runs.
I don't even remember "Muskrat Love" when it hit the charts.
(And no, I am not putting that one on this blog.  You want it, click the link and buy it yourself.  That might qualify as a song that was quite fairly forgotten.  But I digress.)
A few years ago, I was able to purchase Captain & Tennille's debut album, also called Love Will Keep Us Together, on vinyl for a couple of dollars.  I didn't buy it for the title track; I bought it for the song that is thought of as the second hit from the album (though it was actually released first), "The Way I Want To Touch You".
(Love Will Keep Us Together peaked at #2 on the Billboard Top LPs & Tape chart.  Album ℗1974 A&M Records.  Photo courtesy Amazon.com.)
The Single
As related in the August 16, 1975 issue of Billboard, "The Way I Want To Touch You" was originally just a regional hit on the west coast (not hitting the Hot 100, from what I can tell) after Mr. Dragon and Ms. Tennille spent $250 to have 500 records pressed of the song; they sent them to radio stations themselves.  The modest success the song had got them their contract with A&M Records, and after "Love Will Keep Us Together" hit #1 (eventually becoming the #1 song of 1975), A&M re-released "The Way I Want To Touch You".
Chart Performance
The song entered the Hot 100 (finally) the week ending September 27, 1975, becoming the highest debut of the week at #80 (chart).  It eventually topped the Adult Contemporary chart (called the "Top 50 Easy Listening" chart at the time) in November (right around the time Mr. Dragon and Ms. Tennille were getting married) and made it to #4 on the Hot 100, peaking the week of November 29 (chart).  According to Billboard.com, it spent 17 weeks on the Hot 100, which seems rather short for such a successful song.  Also, due to the timing of its peak sales, the song missed the year-end charts for both 1975 and 1976.
Captain & Tennille After "The Way I Want To Touch You"
Captain & Tennille remained mainstays on the pop charts until a sudden disappearance in 1980 (just after "Do That To Me One More Time" became their second #1 hit) when their record company at the time, Casablanca Records, collapsed.  Of course, they continued to perform with success well after that, but their hit record career was done.
I don't know about anyone else, but I was disappointed to hear that Toni Tennille filed for divorce from Daryl "Captain" Dragon a few years ago.  And then I was further disappointed to see that most of the responses to this news consisted of "they're still alive???"  The other responses mostly were related to those two familiar titles:  "Love Will Keep Us Together" (a title which lent itself to, well, one joke repeated 1000x just after the divorce announcement came out) and "Do That To Me One More Time" (which lent itself to a joke which was slightly more clever, only used by one person).
But apparently things got better between the two of them after the divorce.  When Mr. Dragon passed away on January 2, 2019, his ex-wife Ms. Tennille was at his side.
Forgetting "The Way I Want To Touch You"
After its run, "The Way I Want To Touch You" was basically never heard again, at least by me, until I spent time in Dallas listening to a non-commercial station that was, at the time, running an all-70s format.  And then, I heard it a lot, which speaks to the music library available to a radio station run by a high school, I suppose.  Other than that station, though, no other "classic hits" station I know of has played it, well, ever.
It's sad that their divorce was what originally inspired me to post this song, but it's a good reminder of the many good songs they released in their heyday.  Perhaps it might even inspire some classic hits station somewhere to add this one to its rotation.
Note: this post contains affiliate links. View my affiliate link disclaimer here.