Ask most rock/pop music historians about southern rock, and they will likely point you to the early 1970s.  They won't, by and large, have much to say about the early 80s, as the genre was waning by then.  That didn't stop the group Point Blank from barely hitting the top 40, for the first and only time, with a forgotten 1981 rocker named "Nicole".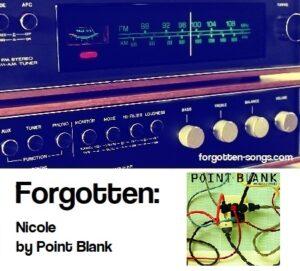 Who were Point Blank?
Point Blank was one of many southern rock groups at the time they formed (1974).  Rick Flynn, who was a rock DJ in Cincinnati , wrote the band's official bio and explains his connection to the band:
I was very instrumental in heavily promoting one of the great Southern Rock bands, Point Blank. The band, at that time, was a mega-touring outfit under the exact same management as ZZ Top and I became such a huge fan of theirs, to say the least.
As Mr. Flynn goes on to say in the actual bio:
[T]his stage-rumbling, Dixie-Fried, collective of Dallas/Ft. Worth musical brothers, defied the customary restrictions commonly placed on professional, national touring acts, by being able to make a living playing major arena venues, for two years, without so much as a single record or record album for sale. How did they do it? It was solely based upon their ability to consistently deliver top-flight performances in any live concert situation.
Founding member Rusty Burns states in this interview that Point Blank averaged more than 250 shows per year during their touring years.  Amazingly, after those first two years that Mr. Flynn mentioned above, the group also managed to release an album almost every year for most of the rest of the band's run.
It was when Point Blank released its fifth album, American Exce$$, in 1981 that the group had its biggest taste of chart success.

(American Exce$$ peaked at #80 on Billboard's Hot LPs & Tape chart. Album ℗1981 MCA Records, Inc..)
The Single
The one and only charting single off American Exce$$ was a rather sultry song called "Nicole".  In it, the protagonist expresses his concern for Nicole, who apparently has made some changes in her life that might not be for the best.  Whether Nicole is our hero's lover or ex isn't really said, but either seems possible given the lyrics.
Unfortunately, the preview below doesn't contain any of those lyrics.*
Chart Performance
"Nicole" entered Billboard's Hot 100 at #88 for the week ending June 27, 1981 (chart).  It peaked, just barely inside the top 40, at #39 for the week ending September 5 (chart | magazine).  From its peak, though, the single fell out of the top 40 the next week, and, after three more weeks, off the Hot 100 altogether.
As might be expected for a song that, when it gets any airplay at all now, gets its spins on classic rock radio, "Nicole" performed the best on the Top Rock Tracks chart, peaking the same week that it did on the pop chart (chart – Billboard Pros only).
Point Blank After "Nicole"
Point Blank continued recording and touring after the success of "Nicole", but by 1984, the members were ready to call it quits.  They eventually reunited in the 21st century for more touring and recording, but by the time of this writing, most of the founding members have passed on.
Forgetting "Nicole"
Like I said above, I have (very occasionally) heard "Nicole" on some classic rock station or another over the years.  It would be nice if it made its way onto a classic hits station or two.
* Hey, I don't choose the snippets Apple Music puts in these previews.
Note: this post contains affiliate links. View my affiliate link disclaimer here.