Pop music in the early 90s, while being very notable for the fracturing of the top 40 format amid grunge, rap, and even a little country, also had, as one of its features, a fair number of Christian artists crossing over.  Amy Grant, of course, is the most easily remembered*, but there were others.  One of the lesser remembered artists had a big hit in early 1992, but these days, you'd be hard-pressed to find a secular, terrestrial station playing Kathy Troccoli.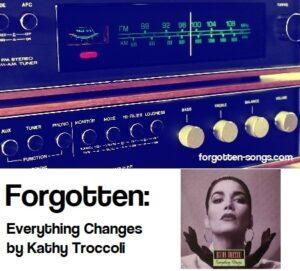 The Early Success of Kathy Troccoli
Kathy Troccoli had a rather successful start to her career in the then-burgeoning field of contemporary Christian music (CCM), per this now-archived writeup from CCM Classic.  She recorded demos with the help of Ed Nalle after she had opened for his group GLAD.  These demos got the attention of a couple of people, Michael Blanton and Amy Grant's brother-in-law Dan Harrell.  And they were impressed enough to form a new record label, Reunion Records for the express purpose of marketing Ms. Troccoli's music.
I'm gonna repeat that for emphasis:  Kathy Troccoli's music was good enough that someone formed a new record label for her.**
Mssrs. Blanton and Harrell's faith in Ms. Troccoli paid off quickly; her first album, Stubborn Love, was the fastest selling debut album by a female Christian artist at that time.
And then, after releasing two more albums, she walked away from the music industry.  For several years.
The Comeback
"I absolutely loved what I was doing," Troccoli explained to Billboard. "It's just that I had a passion for other things. I was just doing, like, a quarter of what I thought I should be doing." (source)
Apparently not necessarily liking the direction her music career had been going, Kathy Troccoli went home to Long Island, where, according to an article written in the early 90s, she "taught voice lessons, sang at weddings and gave an occasional concert."
After a few years, Ms. Troccoli began to ease back into the industry, providing backing vocals for Taylor Dayne's 1990 top-five hit "I'll Be Your Shelter".***
It was in 1991, a full five years after her previous album, that Kathy Troccoli released Pure Attraction, which was produced by Ric Wake, who had produced "I'll Be Your Shelter".  The first two tracks on the album were written by the nearly ubiquitous Diane Warren, who had also written (among many, many other things) "I'll Be Your Shelter".  At the time it came out, Ms. Troccoli touted the fact that she was allowed much more artistic freedom on that album than had been the case for the first three.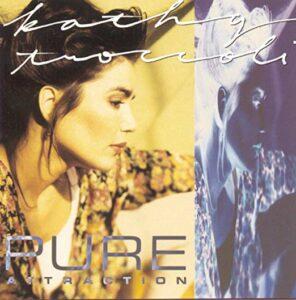 (Pure Attraction did not make it onto Billboard's Top Pop Albums chart. Album ℗1991 Reunion Records, Inc.)
The Single
The first single from Pure Attraction was the Warren-penned "Everything Changes", which, according to Ms. Troccoli, had been offered first to Ms. Dayne.  (I could find any number of people online who would have sworn it was Taylor Dayne singing this.)  It was supported by a video featuring rather frenetic direction, as well as the reddest lipstick I think I've ever seen.
The sound of "Everything Changes" is fairly consistent with dance-pop tunes of that era.  In spite of the growing trend toward grunge in 1992, it turned out that there was still a place for Ms. Troccoli's single.
Chart Performance
"Everything Changes" entered Billboard's Hot 100 at a decent #73 for the week ending February 21, 1992 (chart).  It slowly made its way up the chart, peaking at #14 in its tenth week (chart).  From there, the single lasted five more weeks in the top 40, fell out (to #41), and then climbed back in (to #40), a rather uncommon progression for a single at the time.  In all, it was on the Hot 100 for 20 weeks.  The long (for its time) run was enough for "Everything Changes" to rank at #79 in Billboard's Year End Hot 100 for 1992 (chart).
Other charts were just as good (or better) to "Everything Changes" as well.  It peaked at #15 on the Hot Dance Singles Sales chart on May 15 (chart), for example, but its best performance was on the Adult Contemporary chart, where it peaked at #6 (chart) in the midst of a 24-week run.  Wikipedia (never my favorite source) also says it was a top-five CCM hit.
After "Everything Changes"
As it turned out, "Everything Changes" was Kathy Troccoli's only hit, at least where the Hot 100 was concerned.  (She hit the very bottom of that chart a couple of years later with "Tell Me Where It Hurts".)  Ms. Troccoli did place a few more songs on the Adult Contemporary chart.
These days, she is still singing and recording occasionally; she's also written several books and hosted television shows.  Suffice it to say she stays busy.
But what did Kathy Troccoli really think of the song?
In 1992, Ms. Troccoli touted the amount of freedom she had when she was recording "Everything Changes".  Later interviews, though, paint a slightly different picture. In the CBN interview linked six paragraphs above, she laments that she didn't have the pull to get the song in her natural range:
"Everything Changes," was a big hit, and I was the most miserable. I was in the throws [sic] of, "Oh, I'd love to have a pop hit." And it was a great song…I'm singing, "Everything changes," and I'm miserable.
I don't know that she didn't like the song itself, just the process and the lack of freedom that went into making it.
Nevertheless, I know I always liked this song, and I know I wasn't the only one.  But since, as with most early 90s dance, this song doesn't get much/any airplay on terrestrial radio, I can only imagine that there are a lot of people who would have a smile of recognition on hearing this one again.
* In all fairness, Amy Grant was crossing over to the pop charts well before the 90s.
** There have been many other artists who have been signed to Reunion Records since then, of course.
*** One of my sources said she also provided backing vocals for Mariah Carey but offered no corroboration.
Note: this post contains affiliate links. View my affiliate link disclaimer here.