It isn't unheard of for the artist credited on a track not to be the one who actually sings on that track.  Carlos Santana, for example, made a career of it.  But while many Santana tracks are still receiving airplay, one artist whose credited tracks are much more difficult to hear on American radio is famed producer Quincy Jones.  Do you remember a 1981 track called "Ai No Corrida"?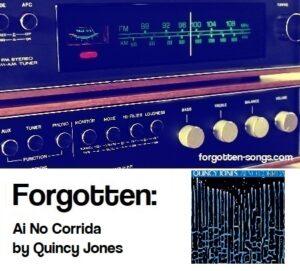 Quincy Jones Before The Dude
I suppose I don't really need to go into the career of Quincy Jones, which has spanned over five decades.  His website tells of how he started off with trumpet playing, became vice-president of Mercury Records in the early 60s, produced tracks for approximately a bazillion artists, scored dozens of movies, and did a bunch of other stuff.  Basically, he was, and is, a huge name in the music industry.  Oh, and he managed, in the midst of all that, to put out a few albums of his own.
Probably the best known (though not the highest charting) album by Quincy Jones was The Dude, released in 1981.  The Dude featured, among others, vocalists Patti Austin and James Ingram (for whom Quincy Jones would produce the number one smash "Baby, Come To Me" later that year*).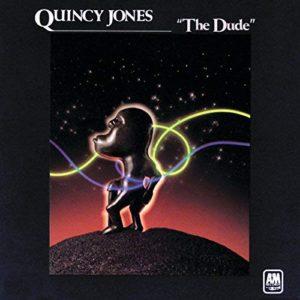 (The Dude hit #10 on Billboard's Top LPs & Tape chart. Album ℗1981 A&M Records.  Photo courtesy Amazon.)
The backstory of "Ai No Corrida"
The first single released from The Dude was a remake of a 1980 Chaz Jankel song which had not had much chart success anywhere except Belgium.  The title, which translates to "rope of love", comes from a rather explicit Japanese film based on the true story of an intense relationship between a former geisha and her lover.  This page will not go into any detail about that relationship, thank you very much, but it will point out that the intensity of the relationship in the movie (and, I suppose, in real life) is reflected quite well in lyrics such as "you thrill me, half kill me".  Yikes.**
Quincy Jones's version of "Ai No Corrida" was close to being a note-for-note remake of Chaz Jankel's original, though Mr. Jones's version featured Ms. Austin singing backup vocals alongside a singer named Dune (a.k.a Charles May), about whom not much information is available online.  
Chart Performance
The Quincy Jones version of "Ai No Corrida" debuted on Billboard's Hot 100 just a couple of weeks after The Dude had been released, charting at #81 for the week ending April 11, 1981 (chart).  It peaked, in its eighth week on the chart, at #28 (chart).  The song remained at #28 for another week before falling out of the top 40 the next week, and all the way off the Hot 100 in three more weeks.
"Ai No Corrida" did not, as one might imagine given that chart history, make the 1981 year-end chart, but it did just barely crack the top 10 of what was then called the Hot Soul Singles chart.
Following "Ai No Corrida"
Quincy Jones had two more singles from The Dude ("Just Once" and "One Hundred Ways") hit the top 40 after that; both songs, in fact, charted higher than "Ai No Corrida".  Following that, he only reached the top 40 two more times, both several years later.
Fret not for Quincy Jones, though; he kept rather busy after The Dude.  For example, it was just the next year in which he reunited with a young pop star whose previous album he had produced to work on a follow-up; that follow-up, Michael Jackson's Thriller, only went on to become the best selling album of all time.
One would think that, with so much name recognition, Quincy Jones could get some spins for his music even today.  "One Hundred Ways", I suppose, still gets a little bit of airplay (but not much).  "Ai No Corrida", on the other hand, has pretty much disappeared entirely.
Like these songs? Buy me a coffee!
* Yes, "Baby, Come To Me" was produced in 1981…it just took until early 1983 to finally get to number one.
** Now that I think about it, how did this get on the radio at all with lyrics like that?
Note: this post contains affiliate links. View my affiliate link disclaimer here.