The early 1990s had, perhaps, more one-hit wonders than any other era that easily comes to mind.  A lot of those one-hit wonders have been forgotten.  Very few, though, had completely disappeared from my mind.  So, I was rather surprised when I heard the only US hit from British singer Chesney Hawkes.  I had heard the song ("The One and Only") quite a bit when it was on the charts.  Apparently, even I can forget some of these unfairly forgotten songs.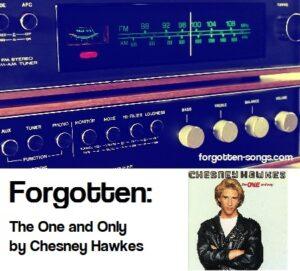 Who is Chesney Hawkes?
Chesney Hawkes, per this short abridged video autobiography*, told his father he wanted to be a pop star.  In a sense, he hoped to follow in the footsteps of his father, who was a member of the 1960s band The Tremeloes.  His father graciously gave him the entire summer holiday to become a pop star.  Unfortunately, Mr. Hawkes had to have his wisdom teeth out that summer, which didn't help his aspirations.
But it was while he was recovering from having his wisdom teeth out that he learned of a casting opportunity for the upcoming (at the time) film Buddy's Song**.  And it was through that movie that Mr. Hawkes managed to hit the charts and become, ever so briefly, a pop star.  Mr. Hawkes appeared in the movie (as Buddy) and recorded all the songs for the soundtrack, which was renamed after its biggest hit for its American release.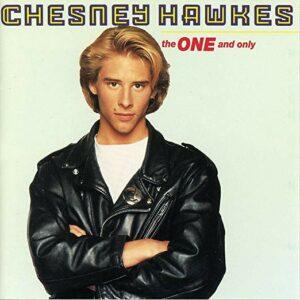 (The One and Only did not make it onto Billboard's Top Pop Albums chart. Album ℗1991 Capitol Records.)
The Single
The first single from Buddy's Song, "The One and Only," quickly shot to the top of the British charts, where it spent five weeks at number one in spring 1991.  Written and co-produced by Nik Kershaw, the song, quite honestly, might come across as rather pompous in the celebration of self.  But it was catchy, and that helped.
Chart Performance
It took a completely different movie to get "The One and Only" onto the American charts.  The song was featured in the Michael J. Fox film Doc Hollywood, which was released in late summer of 1991, and very quickly made its debut on Billboard's Hot 100.
"The One and Only" charted at #79 on the Hot 100 for the week ending August 3, 1991 (chart) and proceeded to climb rather slowly from there.  It wasn't until its 14th week on the chart, the week ending November 2, when it peaked at #10 (chart).  The single hung around the top 40 for another month, finally dropped below #40 in week 20, then fell off the chart the next week.  Its long (again, for the time) run on the chart was, in fact, good enough for "The One and Only" to be the #93 song on Billboard's 1991 year-end chart.***
After "The One and Only"
It doesn't take too long to find all the snarky commenters online who will point out that "The One and Only" was the one and only US hit for Chesney Hawkes.  He did hit the UK charts a few more times, but his last hit there was over a decade ago.  He is still performing and occasionally touring today…and I suppose there's still no one he'd rather be.
With that said, the one and only American hit for Chesney Hawkes, I would imagine, has not appeared on American terrestrial radio in a long time.  It would be nice to hear it again.
* Language warning applies.
** Buddy's Song is obscure enough of a movie that Amazon, as of this writing, doesn't even sell it used.
*** I don't like linking to Wikipedia, but almost all 1991 issues of Billboard are not available online.
Note: this post contains affiliate links. View my affiliate link disclaimer here.