Occasionally, a band that has had a long history will be well remembered solely for its earlier hits.  In these cases, those early hits will continue to receive airplay on classic hits and/or classic rock stations even today, while its later hits seem to vanish from the airwaves.  To a point, that was the case with the final hit of Starship.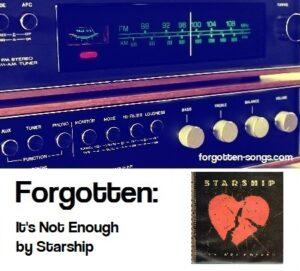 After Jefferson Starship
By the late 80s, Starship was no longer recognizable as the group that had been born out of Jefferson Airplane so many years before.  The name "Jefferson" had remained with departed member Paul Kantner per a 1985 agreement, leading to the newly shortened name.  David Freiberg left shortly thereafter.  Finally, Grace Slick, the last tie to the Jefferson Airplane days, departed in 1988 (and ended up with a reformed Jefferson Airplane the following year).  What was left of Starship was drastically different, both in lineup and sound, from the Jefferson Starship of a decade earlier, let alone the Jefferson Airplane of two decades earlier.
With Mickey Thomas now as its sole lead vocalist, Starship attempted to follow up on the great success of its first two albums (which had produced three #1 hits*) with 1989's Love Among the Cannibals.  Mr. Thomas stated that this was his favorite Starship album.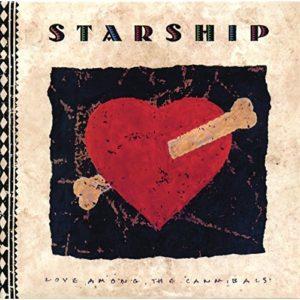 (Love Among the Cannibals peaked at #64 on Billboard's Top Pop Albums chart. Album ℗1989 BMG Music.  Photo courtesy Amazon.)
The Single
The first single from Love Among the Cannibals was "It's Not Enough", a mid-tempo power ballad that departed a bit even from the sound of the earlier Starship singles.  "It's Not Enough" entered Billboard's Hot 100 at #80 for the week ending August 5, 1989 (chart) and peaked at #12 for the week ending October 7 (chart).  It spent 16 weeks on the chart, not quite enough to make the year-end chart.
The Beginning of the End
It might have seemed at that point as if everything was fine with Starship, but things were changing rapidly.  The follow-up single from Love Among the Cannibals, "I Didn't Mean to Stay All Night", only scraped the bottom of the charts, as did one single from the compilation album Greatest Hits (Ten Years and Change 1979-1991), which, as might be inferred, included both hits from the late Jefferson Starship and Starship eras.  By the time that compilation had been released, though, two more longtime members of the group were gone.
Drummer Donny Baldwin left the group immediately after a 1989 barroom fight with Mickey Thomas that left Thomas in need of facial reconstruction; this forced Starship to postpone the remainder of its tour and probably did nothing to help the lagging sales of Love Among the Cannibals.  Mickey Thomas later recounted what had led up to the fight:
"It had to do with being on tour together for so many years in the crazy environment of the road. Being on the road is crazy enough without getting some other factors mixed in there, like resentment and alcohol and drugs. It was a very unfortunate incident that got out of hand. I'm sure each of us would love to go back and retrace our steps that night and make it different, but you can't do that. You change one thing and you may change the whole course of your life."
Guitarist Craig Chaquico, who, like so many other former Jefferson Starship members, was unhappy with the direction Starship's music had taken, left in 1990.  By 1991, Starship was no more, though after another year, Mickey Thomas was using the name again for touring (and, eventually, for a 2013 album).  Several of the other former Jefferson Starship members, unfortunately, are presently (as of this writing) involved in litigation over the use of the formerly retired band name.  All in all, the Jefferson Starship/Starship story would have made for a rather depressing episode of "Inside the Music".
Whither "It's Not Enough"?
Of course, Starship's music still gets some airplay (specifically, "We Built This City" and "Nothing's Gonna Stop Us Now"), but other songs, such as "It's Not Enough", have not gotten the respect they deserve.  I can't say I've heard this one on the radio in three decades.
* Granted, one or more of these #1 hits inevitably appears on one of the many lists of cheesiest hits ever, but you can't argue with the success.
Note: this post contains affiliate links. View my affiliate link disclaimer here.