It could be argued by some in the music world (or at least by me) that 1985 was the year of Madonna.  Her music was just about everywhere, and her songs from that era had such staying power that many of them are still played on the radio today.  Some of those songs, though, have fallen by the wayside, despite their popularity at the time.  The most prominent of Madonna's forgotten songs from that era would have to be "Angel".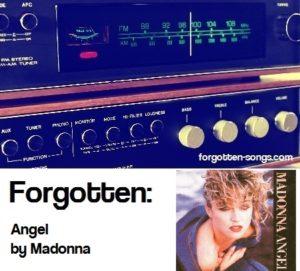 Madonna: Queen of Pop
While her first, self-titled, album was a solid debut in late 1983/early 1984, it was the follow-up, Like a Virgin, released in November 1984, that truly made Madonna a superstar.  She was constantly getting airplay on CHR stations across the country, as well as on MTV.  Her singles were consistently hitting the Top 5.
Honestly, it is a testament to just how popular Madonna really was at that time to realize just how many songs from her first two albums still, thirtysomething years later, receive regular airplay on some stations, particularly those of the Adult Hits variety.  (The Classic Hits stations have added her into their playlists as well, from what I can tell.)  Even her very first single, "Holiday", which managed a relatively tame peak position of #16, still gets played.  All in all, things were going rather well for a young woman who was just Madonna Louise Ciccone a few years earlier.
With all that said, there is one glaring exception to that list of songs still getting played, that being the third single from Like a Virgin.  The title track had, of course, gone straight to #1 (for six weeks), and the follow-up, "Material Girl", hit #2.  And then, before the next single was released, Madonna's song "Crazy For You", from the Vision Quest soundtrack, had also hit #1 (knocking the ubiquitous (at the time) song "We Are the World" out of the top spot).  And then, finally, came "Angel".  ("Dress You Up", the fourth single, also still gets airplay, as does the radio-only "Into the Groove".)*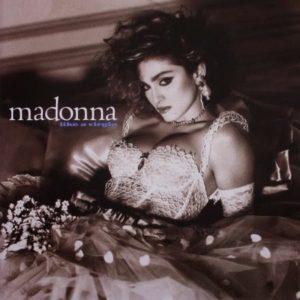 (Like a Virgin spent three weeks at #1 on Billboard's Top 200 Albums chart. Album ℗1984 Sire Records. Photo courtesy Amazon.)
The origin of "Angel"
The now-archived site Madonna Decade explained how "Angel" came about:
Written by Steve Bray and Madonna, 'Angel' was one of the first songs developed for 'Like A Virgin', the LP from which it came, and according to Madonna, was about a girl who was "in depression over something. An angel appeared and  healed her soul, making her fall madly in love with Him. […] It's something that I felt when I was young. I thought it would make for an interesting story if I wrote that [experience] as a song on my record."
"Angel" never had an official music video.  This appears to have been a deliberate decision by Madonna and Warner Bros. Records (which owned Madonna's then-label, Sire Records), owing to the multitudes of other Madonna videos still in heavy rotation at that time.
Chart Performance
"Angel" rocketed onto Billboard's Hot 100 the week ending April 27, 1985 (chart | magazine) all the way up at #48.  Two months later (the week ending June 29 (chart | magazine)), it peaked at #5.  Per Billboard.com, it spent 17 weeks on the Hot 100.  The 1985 year-end issue shows that "Angel" was #81 for the year.
In more recent years, "Angel" has all bit disappeared from commercial radio.  But the real tragedy is that Madonna herself appears to be neglecting it.  She only performed it during one tour, the Like a Virgin tour in 1985.  All of Madonna's greatest hits compilations have omitted the track for some reason, a move that, with regard to the latest compilation, Celebration, was referred to as "crazypants".
But regardless of Madonna's feelings about "Angel", it is certainly deserving of more airplay.  Any amount of airplay would be an improvement.
* The only other forgotten song of Madonna's from that era was "Gambler", which was supposedly never released in the US for sales or airplay.  A second song from the Vision Quest soundtrack, it did sneak onto at least one top 40 station in the US.
Note: this post contains affiliate links. View my affiliate link disclaimer here.