If someone were to mention The Kings to most Americans, my guess is that the most common response (other than "Who?") would be something along the lines of "Hey, aren't they that group that sang 'Lola'?"  No, The Kings were a Canadian rock group that formed in the late 70s and, per the group's official website, refer to themselves as a one-hit wonder…which they basically were…though their one hit was two songs together: "This Beat Goes On/Switchin' to Glide".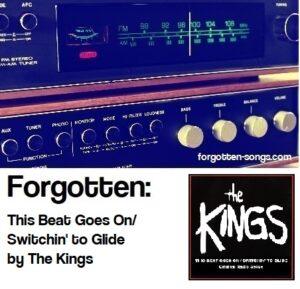 Who Where The Kings?
The group's website has a fairly good biography section that tells the story of The Kings.  Originally known as WhistleKing, the group mostly did club gigs at first before recording their first album.  In the process of doing that, they ran into a well-known producer named Bob Ezrin, who was all set to mix the tracks when he discovered that everything had to be redone.  Mr. Ezrin talked to Elektra Records and got the group signed to a deal, where they recorded everything again in an album which was released as The Kings Are Here in 1980.
(The Kings Are Here peaked at #74 on Billboard's Hot LPs and Tape chart. Album ℗1980 Elektra Records. Photo courtesy Amazon.com.)
The Single
Though their one hit single would eventually contain the songs "This Beat Goes On" and "Switchin' to Glide", when the single was originally released, only "Switchin' to Glide", a song that appears to be about relaxing and gliding through life rather than stressing about it, was included.  The single did fairly well with just the second song, entering Billboard's Hot 100 at a modest #90 for the week ending August 23, 1980 (chart).  It reached a peak at #56 the week ending October 4 (chart | magazine) and began to make its way back down the charts.
Strangely, though, the single got new life after that.  The Kings, who had always felt that "This Beat Goes On" (a song that appears to be basically about partying) and "Switchin' to Glide" were "really two songs in one" (per their bio) insisted on including both songs on the single until Elektra Records finally gave in and released them together.  And then, as their bio continues, "radio really picked up on it".  Radio stations in some areas gave the song heavy airplay (even though the two songs together are almost six minutes in length), and the single began to move back up the Hot 100, so that the single reached its ultimate peak at #43 in its 17th week on the charts, the week ending December 13 (chart | magazine).  According to billboard.com, the single managed to remain on the charts for 23 weeks in total (though the group's bio says it was on the charts "for over six months").
After "This Beat Goes On/Switchin' to Glide"
Afterward, The Kings were never able to duplicate their early success.  A second album, Amazon Beach (presently available on Amazon only as a combination CD with The Kings Are Here) only hit #170 on the album chart, and The Kings were dropped by Elektra.  (The Kings themselves call Amazon Beach "really not that great an effort".)  They have continued to record since then (though for smaller record labels), and they are still, as far as I know, continuing to play live shows as well.
The Kings, as I wrote earlier, realize that most of their fame comes from one single in 1980.  Deciding to capitalize on this, they have released on their site a DVD entitled "Anatomy of a One-Hit Wonder".  (To those familiar with my blog: yes, Amazon has this, but for a much higher price than on The Kings' webpage, so I could not in all good faith link to it.) "This Beat Goes On/Switchin' to Glide" apparently (from what various people online have written) still receives airplay in some places, though I've never heard it apart from the long-running radio show Crap From the Past.  I'd love to hear more stations adding it to their playlists.