Dr. Hook is one of those 1970s groups that a lot of people know by name.  I would imagine, though, that most people don't remember many, if any, of Dr. Hook's hits (and they had several).  It's interesting, though, that a group which had top 20 hits in five out of ten years of the 70s is so easily forgotten.  And, surprisingly enough, one of those forgotten hits was one of the group's highest charting.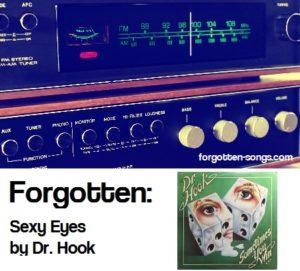 The early days of Dr. Hook
Per AllMusic, Dr. Hook & the Medicine Show (as it was originally called) got its start in the late 1960s as a collaboration between  bassist/vocalist Ray Sawyer and guitarist/vocalist Dennis Locorriere.  They added some of Mr. Sawyer's bandmates from his old band, The Chocolate Papers, to form their original lineup.  The name "Dr. Hook" came from Ray Sawyer's use of an eyepatch after a car accident and the Peter Pan character Captain Hook.*  (AllMusic thinks the "Medicine Show" portion may have been a drug reference but offers no justification for thinking that.)
The group had what one could call an eclectic early history.  They recorded songs by Shel Silverstein, performed as their own opening act, and, after recording an entire song about it, made the cover of the Rolling Stone.**  But, they did have two top ten hits to show for it.
The late 70s
In 1975, now with a newly shortened name, Dr. Hook moved to Capitol Records.  Several albums followed, along with several more top 20 singles and some lineup changes.  It wasn't until 1978's Pleasure and Pain, though, that Dr. Hook had a certified gold album, with hits that sounded much less like the country rock sound the group had had.  Instead, AllMusic describes Dr. Hook at this point as "disco-tinged balladeers".  I don't think the writer meant that as a compliment.
Dr. Hook had released an album per year since 1973, and so 1979 brought the follow-up to Pleasure and Pain, entitled Sometimes You Win.  The AllMusic review describes this particular album as a "soft rock-disco masterpiece".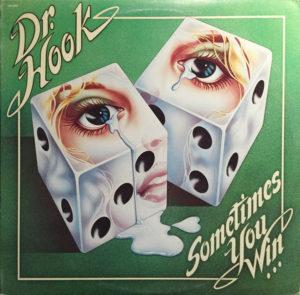 (Sometimes You Win hit #71 on Billboard's Top LPs & Tape chart. Album ℗1979 Capitol Records Inc.)
The first single from Sometimes You Win was "Better Love Next Time", which almost, but not quite, hit the top ten in very early 1980.  The second single, "Sexy Eyes", was a fairly simple love-at-first-sight song set on a dance floor.
Chart Performance
"Sexy Eyes", as it turned out, ended up being the best performing single by Dr. Hook.  Entering Billboard's Hot 100 at #71 (just ahead of "Better Love Next Time" in that song's final week on the chart) for the week ending February 16, 1980 (chart), the song began a slow upward climb.  It was more than three months before "Sexy Eyes" peaked at #5 for the week ending May 24 (chart).  It stayed at #5 for one more week before taking a much quicker dive off the chart, exiting after 21 weeks.  After a fairly impressive run for that time, "Sexy Eyes" made the Year-End Hot 100 singles chart at #25 for 1980 (magazine).
After "Sexy Eyes"
All was not necessarily well with Dr. Hook, though.  Another label change, this time to Casablanca, did not yield chart success to the degree the group had previously had.  Two albums didn't chart well, and two singles hit the lower parts of the top 40.  And then Ray Sawyer, reportedly not happy with the direction the band had taken, departed.  By 1985, the band had called it quits.
Dennis Locorriere, who retained ownership of the name "Dr. Hook", became a session musician, while Ray Sawyer toured for many years as "Dr. Hook featuring Ray Sawyer" or some variation thereof.  Mr. Locorriere, therefore, had to license the name to Mr. Sawyer to allow this touring.  In this 2015 interview (archived; language warning), Mr. Locorriere stated that despite the legal wrangling required for such licensing, there was no acrimony between the two of them, even though they hadn't been in touch for a while.
Mr. Locorriere is currently, as of this writing, in the midst of the "Dr. Hook 50th Anniversary World Tour"; Mr. Sawyer, however, passed away on December 28, 2018 after a short illness.
I, personally, have not heard a classic hits station play a Dr. Hook song in many years, the last time being thanks to the Tom Kent Radio Network, which, at the time, was playing double shots of groups and featuring the first hit (which, for Dr. Hook, was "Sylvia's Mother") and the biggest hit ("Sexy Eyes").  It would be nice to hear that one on the radio again sometime.
Like these songs? Buy me a coffee!
* Obviously, Captain Hook did not wear an eyepatch, but other pirates certainly did.
** Albeit only as caricatures.
Note: this post contains affiliate links. View my affiliate link disclaimer here.