Listen to a classic hits station in 2017, and you might very well hear some 1990s songs.  These are, for the most part, a rather recent addition to these stations' playlists (which, until recently, were concentrated on the 1975-1989 period).  You will probably notice, however, that the 1990s music that has finally started to appear on these stations does not cover all the different subgenres of top 40 music from that decade.  Alternative rock, of course, makes up the bulk of 90s music heard on the radio now. Almost none of the 90s music on radio is dance songs, such as, say, the one US top 40 hit from Gina G.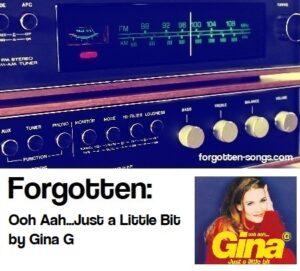 Who Was Gina G?
Born in 1970 in Brisbane, Australia, Gina Gardiner was a DJ and a member of a dance pop group called Bass Culture before emigrating to the UK. Once there, she entered a song into "A Song For Europe" (as it was known at the time), a UK televised competition to determine the UK's entry into the Eurovision song contest.  That song, "Ooh Aah…Just a Little Bit", won, and, while it did not win Eurovision, it did top the UK charts, which led to Gina G's debut album (on which the song featured prominently), Fresh!  Featuring a rather risque cover shot of Gina G apparently covered only in chocolate icing, Fresh! was a top 20 album in the UK.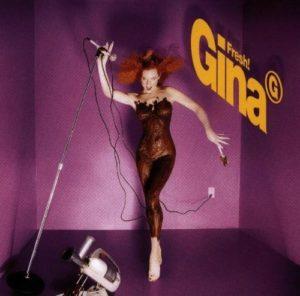 (Fresh! did not chart on The Billboard 200. Album ℗1997 Warner Bros. Records.  Photo courtesy Amazon.)
"Ooh Aah…Just a Little Bit" was released in the UK and the US well before Fresh!, which was released in March 1997.  As anyone who listened to top 40 radio in late 1996/early 1997 knows, the song received massive amounts of airplay in the US.
Chart Performance
The single entered Billboard's Hot 100 at #77 for the week ending November 30, 1996 (chart) and peaked nine weeks later at #12 (chart | magazine).  It stayed there for two weeks before falling a little bit and then, somehow, climbing back up to #13 a month later.  In total, it spent 30 weeks on the Hot 100; its performance was good enough to be listed as the #41 song for 1997.  (Billboard's year-end issue makes it plain that airplay drove this position much more than sales did.)
After "Ooh Aah…"
Following "Ooh Aah…Just a Little Bit", Gina G released five more singles from Fresh!  All of them appeared on both the UK and Australian charts, though only one more hit the Hot 100 in the US.
Per The Sun, a legal dispute between Gina G and UK producer Steve Rodway (who produced "Ooh Aah…") prevented the singer from releasing a second album in the late 90s.  She finally did release, albeit only through her now-defunct website, a second album in 2005.  A few non-album singles have appeared since then, but for the most part, Gina G has disappeared from the public eye in recent years.  (Her Twitter account has been silent since 2014, as of this writing.)
As I said, 90s dance music is hard to find on the radio in the US these days.  It would be nice to see Gina G's one big hit make a return to the airwaves.
Note: this post contains affiliate links. View my affiliate link disclaimer here.