Three weeks after Prince's death, the news cycle is still abuzz with stories about it.  (Aside: 2016 has been really bad for music legends, and we're still only about one-third through the year.)  Even though his impact lessened quite a bit in recent years from its peak, there's not denying that he was a major influence in popular music.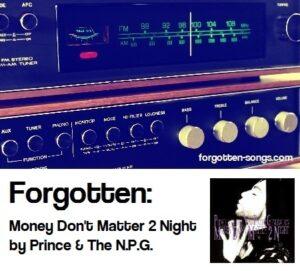 With as many hits as Prince had, it's natural that some of his songs that hit the top 40 have been forgotten by radio.  After all, after smashes like "I Wanna Be Your Lover", "1999", "Kiss", and especially "When Doves Cry" (Billboard's number one song for 1984, and Prince's best-selling single ever), there's usually isn't much room in the typical classic hits station's playlist for other songs by the same artist.  And with a talent such as Prince's, that means that there are other songs which, for some other artist, would definitely be played, but which, for Prince, end up falling by the wayside.
The New Power Generation years
Take, for example, Prince's output in the early 1990s.  By then, the New Power Generation was serving as his backup band, but Prince's sound was still distinctively his, and his songs were still charting just as well as ever.  His 1991 album, Diamonds and Pearls, yielded no fewer than four hits, including "Cream", Prince's final number-one single.  ("Cream" has also basically vanished from the radio, now that I think about it.)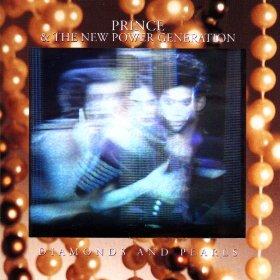 (Diamonds and Pearls peaked at #3 on the Billboard 200 Top Albums chart. Album ℗1991 Warner Bros. Records.  Photo courtesy Amazon.)
The final single released in the US from Diamonds and Pearls (it was either the fourth or fifth, depending on how you reckon it) was "Money Don't Matter 2 Night", a song with a social message (including a pretty overt anti-war sentiment).*  It featured a very smooth sound and vocals with a distortion effect which, according to
Wikipedia
**, was not intentional but was apparently liked by Prince.
Chart Performance
"Money Don't Matter 2 Night" entered Billboard's Hot 100 at #90 the week ending
March 28, 1992
 and peaked at #23 in its
eighth week on the chart
.  In all, it spent a decent 13 weeks on the Hot 100, a respectable run but not enough to make the 1992 year-end chart.
Prince's legacy has been underscored in the past couple of weeks by the reappearance of nine past hits of his on the Hot 100.  (See the May 14, 2016 chart for evidence.)  I would have loved to have seen more than nine reappear, including "Money Don't Matter 2 Night".
* I have no intention to discuss the social messages in the song from a political standpoint.  Prior to having this page, I have/had another blog for that sort of thing, though I've pretty much burned out on politics.  Go figure.
** The veracity of anything in Wikipedia is always questionable; this particular fact was unsourced as of this writing.
Note: this post contains affiliate links. View my affiliate link disclaimer here.