As has been said on this page more than once, the late 80s and early 90s were replete with songs which have been left behind by radio.  The entire library of songs for some artists are now forgotten, when once they ruled the airwaves on top 40 stations.  While that hasn't quite happened to the artist who went by the stage name Pebbles, some of her hits have hardly been heard on American radio since the 90s.  For example, when was the last time you heard a station play "Giving You the Benefit"?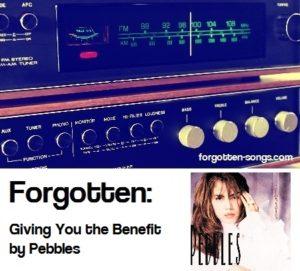 So Who Was Pebbles?
As with many successful artists, Perri McKissack came from a musical family.  Her cousin, Cherelle, was a fairly successful R&B singer during the 80s.  Pebbles's website describes her own beginnings:  taking her childhood nickname as her stage name, she sang backup for the group Con Funk Shun and also co-wrote the group's 1981 track "Body Lovers".*
It was later in the decade when a demo track and video for the song "Mercedes Boy" led to a contract with MCA Records.  Her eponymous debut album rewarded MCA's faith in her, going platinum and yielding two Top 5 hits, including "Girlfriend" and the aforementioned "Mercedes Boy".
It was around this time that Pebbles married music producer L.A. Reid, who, along with Kenneth "Babyface" Edmonds and Pebbles herself, was an executive producer on her follow-up album, Always.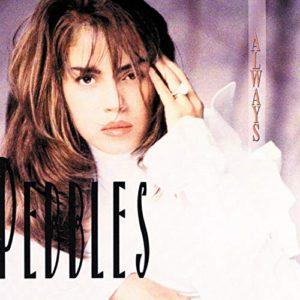 (Always hit #37 on Billboard's Top Pop Albums chart. Album ℗1990 MCA Records. Photo courtesy Amazon.)
The lead single from Always was "Giving You the Benefit".  Written by Babyface and Mr. Reid, "Giving You the Benefit" was yet another love-gone-wrong song, though in this case our protagonist that hopes that the one doing the wrong will get his act together (though she warns him not to take too long).
Chart Performance
"Giving You the Benefit" debuted on Billboard's Hot 100 the week ending August 18, 1990 at #76 (chart).  It had a fairly slow climb up the charts, finally peaking at #4 in its 11th week (chart).  The single remained at #4 for three weeks, getting leapfrogged by acts such as Mariah Carey, M.C. Hammer, and Vanilla Ice.  In all, it lasted 22 weeks on the chart, its run stretching into early 1991.  However, due to the timing of its peak and the methodology used by Billboard to produce its year-end charts, "Giving You the Benefit" only charted at #65 in its 1990 chart.
After "Giving You the Benefit"
Pebbles placed one more single from Always onto the top 40, that being "Love Makes Things Happen", which also featured Babyface.  A third single reached the lower rungs of the Hot 100.
It wasn't until 1995 that Pebbles released her third album, Straight From My Heart.  One track from that album reached the R&B chart; it did not, however, make the Hot 100.
Don't think that Pebbles didn't keep busy during that five years between her second and third albums, though.  Among other things, she discovered and managed the group TLC through her production company, Pebbitone.  This arrangement lasted until the mid-90s, at which point there was what appears to have been a fairly acrimonious breakup.
After that, Pebbles didn't release an album for 14 years.  During that time, she divorced L.A. Reid (though she still apparently uses his last name) and had a religious awakening.  The fourth album, Prophetic Flows Vol I & II, was a gospel album released under the name "Sister Perri".  Perri Reid has not released anything further since then.
One Final Note…
I usually don't go too much into the personal lives of the artists whose songs I profile on this page.  I certainly try to steer clear of rumors that are unsubstantiated.  Unfortunately, in doing research for the backstory of Perri "Pebbles" Reid, I discovered that there are lots of stories flying around the internet.  Lots.  I have no desire to address them here.
Let me be clear:  I like the song.  It deserves to be played more on radio.  That's all I'm saying here.
* Her own website, as of this writing, has the title of that track wrong. Make of that what you will.
Note: this post contains affiliate links. View my affiliate link disclaimer here.