Todd Rundgren is probably known for several songs released over the course of his career.  I can think of three very quickly:  "Hello It's Me", "I Saw the Light", and "Bang the Drum All Day" (the last of which can be heard most commonly around 5:00 on Friday afternoon every single week).  All of those, as far as I can tell, still get quite a bit of airplay.  But do you remember 1978's "Can We Still Be Friends?"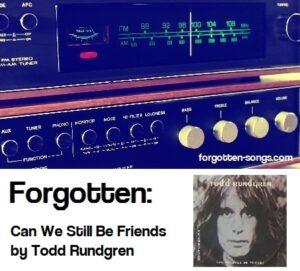 Todd Rundgren in 1978
If nothing else, Todd Rundgren had a very busy decade in the 1970s.  He certainly kept busy with both his albums and those of his band, Utopia.  And when he wasn't recording or writing, he was producing.
1977 ended with the smash success of the Rundgren-produced, 14x-platinum Bat Out of Hell by Meat Loaf.  However, it was also around that time that Mr. Rundgren was separating from Bebe Buell, who is possibly best known for being Liv Tyler's mother.  That separation definitely played a role in his next album, Hermit of Mink Hollow.
As Stephen Thomas Erlewine of Allmusic put it in his review:
[H]e's heartbroken…it's clear that the separation has pained him, since pain and melancholy underpin the album, whether it's on ballads ("Can We Still Be Friends") or on apparently joyous revelries, like "All the Children Sing."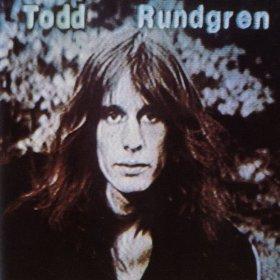 (Hermit of Mink Hollow peaked at #36 on the Billboard 200.  Album ℗1978 Bearsville Records.)
The Single
"Can We Still Be Friends?" was the only song from Hermit of Mink Hollow to hit the Hot 100.  It's a pretty straightforward ballad about the end of the relationship.
Chart Performance
"Can We Still Be Friends" debuted at #85 for the week ending May 27, 1978 (chart).  The song spent five weeks in the Top 40 (I thought, when I originally wrote this, that it might have debuted in the Top 40 during a week in which American Top 40 did a special countdown, but Billboard shows that it was #44 that week), peaking at #29 the week of August 5, 1978 (chart | magazine) before falling out of the Top 40 the next week.  Overall, "Can We Still Be Friends?" spent 13 weeks on Billboard's Hot 100 chart.
A year later, Robert Palmer took another version of this song to #52 (but, honestly, I think Mr. Rundgren's version is superior).
So, while "Bang the Drum All Day" didn't even make it to the Top 40 and still gets airplay, "Can We Still Be Friends?" gets little to no airplay now.  Strange.
Like these songs? Buy me a coffee!
Note: this post contains affiliate links. View my affiliate link disclaimer here.