Hands up:  who remembers OXO?  Hardly anyone reading this blog, that's who.  But, then, that's why this page exists.
The Man Behind OXO
OXO was the creation of a guy named Ish Ledesma, whose earlier band, Foxy, is probably better known.  (Foxy, as is probably known by those like myself who enjoy the disco music of the late 70s/early 80s, had a big hit with a song called "Get Off" and a lesser hit with the follow up, "Hot Number".)
Anyway, a couple of years after the demise of Foxy, Mr. Ledesma formed OXO, which released an eponymous album in early 1983.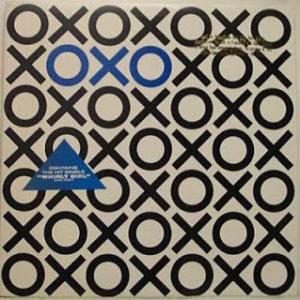 (OXO's self-titled album hit #117 on Billboard's Hot LPs and Tape chart. Album ℗1983 Geffen Records. Photo courtesy Amazon.)
The One Hit
OXO could definitely be called a one-hit wonder. The one song, "Whirly Girl", was a song about Mr. Ledesma's wife, Lori.  Per the now-defunct blog Top One Hit Wonders, the song was intended to be called "Worldly Girl" (again, referring to Lori), but the word "worldly" made the chorus of the song difficult to sing.  (That page also makes reference to the fact that a good portion of the lyrics to the song are simply "whirly girl" repeated over and over.  Still a catchy tune, though.)
Chart Performance
"Whirly Girl" was the highest debut for the week ending February 19, 1983, entering Billboard's Hot 100 at #73 (chart | magazine).  It made it to #28, peaking the week of April 23, 1983 (chart).  The song remained in the top 40 for two more weeks before dropping like a stone.  In total, it spent a total of 14 weeks on the chart.
Following the chart run of "Whirly Girl", no other songs from OXO hit the charts, and, amid some tension between management and Geffen Records, OXO itself was soon just a memory as well.  A couple of years later, Mr. Ledesma went on to form a girl group called Company B, for whom he produced their biggest hit, "Fascinated".  (You don't really hear that one on the radio much anymore, either.)
Forgetting "Whirly Girl"
The only place I have ever heard "Whirly Girl" on the radio is on the cult classic (and oft-mentioned, at least on this blog) radio show "Crap From the Past".  As usual, you'll never hear this song on classic hits stations.  For example,  the local we-play-anything (also known as "adult hits") station in my former residence of Austin, Bob FM, never once played "Whirly Girl".  This rather takes away from that station's reputation, if you ask me, and you didn't.
* I never heard it on the radio during its original chart run because, for most of 1983, I wasn't listening to pop music. Yeah, I missed out.
Note: this post contains affiliate links. View my affiliate link disclaimer here.