In the minds of many people, some of the best music from the 1970s was Southern rock.  Best exemplified by groups such as The Allman Brothers Band and Lynyrd Skynyrd, the rock subgenre reached its zenith in that decade amid a bunch of other genres that sounded nothing like it (which perhaps helped its success).  Among the many, many bands that appeared in the 70s specializing in Southern rock was a band from Alabama called, for some reason, Wet Willie.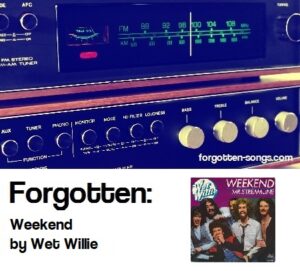 A Quick History of Wet Willie
Originally named "Fox", Wet Willie originally formed in 1969 in Mobile. Per lead singer Jimmy Hall, Fox spent a year refining its sound before adopting the name by which the band is remembered today*.  Their biggest hit, "Keep on Smilin'", cracked the top ten in 1975.  Soon after that, though, came trouble; one of the founding members, Rick Hirsch, left the group in 1976 to work with Gregg Allman and then-wife Cher. Jimmy Hall stated what happened next:
We almost decided to break apart that point, but took a short sabbatical and regrouped in '77 with a new label Epic and a new line-up.
Having moved from Capricorn Records to Epic, Wet Willie produced another top 40 hit ("Street Corner Serenade") in 1977.  1979 brought what would ultimately be the final Wet Willie album, which had the title Which One's Willie?  (The joke, of course, is that none of the members were Willie, as anyone unfortunate enough to be the recipient of a wet willy would have probably been able to guess.)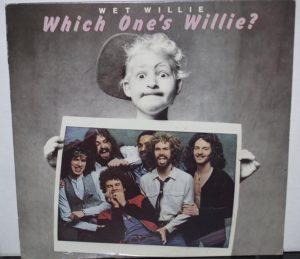 (Which One's Willie? peaked at #172 on Billboard's Top LPs and Tape chart. Album ℗1979 Epic Records.  Photo courtesy Amazon.)
Chart Performance
The first single from Which One's Willie? was a remake of a Mick Jackson song entitled "Weekend" and was, as might be expected, an ode to enjoying a break from the drudgery of the other five days of the week. "Weekend", a mixture of the Southern rock for which Wet Willie was known and the disco that was dominating the charts in 1979, was moderately successful, spending 12 weeks on Billboard's Hot 100.  It debuted on the chart at #80 for the week ending May 26, 1979 (chart | magazine) and peaked at #29 for the week ending July 28 (chart | magazine).
However, the sound of top 40 music was changing rapidly in the summer of 1979.  During that summer, Chicago DJ Steve Dahl spearheaded the anti-disco backlash which resulted in Disco Demolition Night being held during a White Sox doubleheader two weeks before "Weekend" reached its peak position.**  And by the time it had peaked, a little tune called "My Sharona" had just leapfrogged "Weekend" on its way to spending six weeks at #1 and marking a major shift in top 40 music toward rock. Suddenly, the disco-rock hybrid sound of "Weekend" was on the outs.
What happened since
As for Wet Willie, "Weekend" turned out to be its last single to hit the Hot 100.  The band broke up fairly quickly after the release of Which One's Willie?  Jimmy Hall gave his recollection of that time:
The band decided to split up when we didn't have much material ready for a follow-up project after "Which One's Willie". The label said the songs were not strong enough and to wait to record another project. In the meantime, I (Jimmy Hall) as a solo artist was invited to record a solo project for Epic. The band split and went their separate ways to other musical ventures.
While Wet Willie hasn't recorded any new material since 1979, they have gotten back together and still tour occasionally.
Interestingly, while their Capricorn Records music is easily found on CD these days, their Epic Records albums and singles are rather hard to find, not even on any best-of collections, which is why you won't see a link to an MP3 of "Weekend" below. (You won't even find the Epic songs on Spotify.)  And it goes without saying that you won't find "Weekend" on classic hits radio, though you'll probably still hear the occasional spin of "Keep on Smilin'" on your local classic rock station.  For obvious reasons, "Weekend" would be a good addition for stations having a 70s weekend.
Updated May 2022:  Apparently whatever issues there may have been with Epic worked themselves out, as, among other things, you can now find the MP3 on Amazon.  And I hear that there are some stations, mostly in the southern U.S. (go figure), that still play this one at 5pm on Fridays.  As they should.
Like these songs? Buy me a coffee!
* Because there was already another band called Fox.
** It trashed Comiskey Park so thoroughly that the White Sox actually had to forfeit the second game.
Note: this post contains affiliate links. View my affiliate link disclaimer here.