By far the biggest name to come out of the huge upswing in dance music in the late 1980s and early 1990s was Paula Abdul.  To give the reader a sense of how pervasive Ms. Abdul's music was in that era, it should be noted that her debut album, Forever Your Girl, is, as of this writing and per Ms. Abdul's website, the third longest charting album on the Billboard Hot 100.*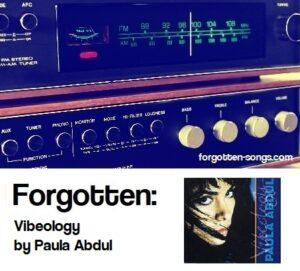 An aside about Paula Abdul
Now, I've wanted to spotlight one of Ms. Abdul's songs for a while not only because I had a fairly good-sized crush on her once upon a time, but also because she and I corresponded, very briefly, once. I doubt she would remember it, but one time, several years ago, I replied** to one of her tweets, and she sent me a PM (which she personally wrote) in response to what I said.  (What I said is public record, if you know where to look – or just ask me.  What she said was not, but it was definitely appreciated by me.)
Let's pick up in 1991…
After the massive success of Forever Your Girl, which went 7x platinum, it was no surprise that the follow-up album, Spellbound, had a great deal of success of its own.  Released three years after Ms. Abdul's debut, the album was well received, going triple platinum.

(Spellbound spent two weeks at #1 on The Billboard 200 Top Albums chart. Album ℗1991 Virgin Records.  Photo courtesy Amazon.com.)
With Spellbound, Paula Abdul picked up right where she left off a year earlier.  The first single, "Rush Rush", rushed right to #1 on Billboard's Hot 100.  Other singles from the album performed quite well also: "The Promise of a New Day" also hit #1, and "Blowing Kisses in the Wind" hit #6.
The fourth single from the album was "Vibeology", a fairly straightforward song, as lyrics go, about a couple connecting on the dance floor.  A thumping bass beat punctuates the song throughout and makes it a great representative of dance music of the time.
Chart Performance
"Vibeology" made a strong entrance on Billboard's Hot 100, finishing at #65 for the week ending January 18, 1992 (chart), while "Blowing Kisses in the Wind" was still in the top 20.  The single peaked at #16 only three weeks later (chart); it stayed at its peak for two more weeks before starting its decline.  It spent a respectable 14 weeks on the chart.  One more single, "Will You Marry Me?", which featured Stevie Wonder on harmonica, was released from Spellbound, becoming the fifth single from that album to chart in the top 20.
What happened since
After that, Paula Abdul took a little break from recording for several reasons, not the least of which were a marriage (which turned out to be short-lived) to Emilio Estevez and receiving treatment for bulimia.  She released a third album, Head Over Heels, in 1995; however, by then, the fickle tastes of top 40 listeners had shifted much more toward alternative music, and the album was greeted with lackluster sales, in addition to mixed reviews.  This turned out to be Ms. Abdul's final full-length album.
Of course, since then, Ms. Abdul is best known for being what some people called the nice judge during the first eight seasons of American Idol, though she also released two singles a few years ago to modest success (though neither single came close to the top 40).  Also, as stated above, she maintains a fairly constant presence on Twitter (@paulaabdul).
Lots of Forgotten Songs
Quite honestly, for all the success Paula Abdul had in that short period from 1988 to 1992, her songs really don't get that much airplay these days, at least from my observations.  "Straight Up" appears to get the most airplay of any of her singles by far, followed by "Forever Your Girl". Rarely, it seems, does any song from Spellbound get airplay (the same goes for Head Over Heels, which goes without saying), but I would argue that several of them, "Vibeology" included, have earned a few more spins than they are getting these days.
* What that means isn't really explained, but my guess is that there was a single from that album on the Hot 100 for the third longest number of consecutive weeks.  The name of whatever artist/album topped that list was not readily available.
** Using a different Twitter account which is now pretty much dead and not the one I use to publicize this webpage.
Note: this post contains affiliate links. View my affiliate link disclaimer here.