Michael Johnson, despite a terribly common name, made that name fairly well known on the pop charts for a short period in the late 1970s.  Even the casual listener of popular music* at the time knew his biggest hit, even if he or she didn't know the artist too well.  (Your author admits here to misreading the name, upon seeing it on a K-Tel compilation album – on vinyl – in the 90s, as "Michael Jackson".  Apologies to everyone for that.)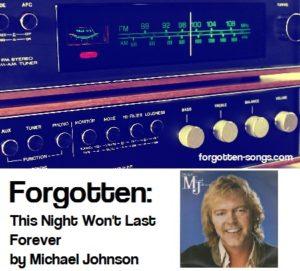 Who Was Michael Johnson?
Per his Vanguard Records bio**, Mr. Johnson learned to play guitar along with his brother as a teenager when both of them were laid up in bed recovering (Michael from pneumonia, his brother from an auto accident). Eventually, he parlayed those abilities into record contracts, international travels, and lots of touring.
1978 brought Mr. Johnson his biggest chart success, thanks to a love-gone-bad ballad called "Bluer Than Blue", a number-one adult contemporary hit which got loads of airplay, particularly on what was then called middle-of-the-road radio stations.  This propelled its album, the not-so-originally named The Michael Johnson Album, to #81 on the album chart.
The follow-up to The Michael Johnson Album was entitled Dialogue, and, while it didn't get people talking quite as much as the previous album, it did have a little bit of success with its first single.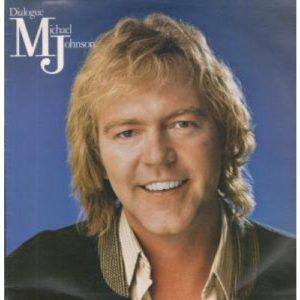 (Dialogue peaked at #157 on Billboard's Top LPs and Tape chart. Album ℗1979 EMI America.  Photo courtesy Amazon.)
The Single
The first single, "This Night Won't Last Forever", was a remake which has similar emotions to "Bluer Than Blue", although at least now our unhappy narrator is hopeful of better days in the future.  The original version of "This Night", written and recorded by Bill LaBounty, went to #65 in 1978. The next year, Michael Johnson had more success with it.
Chart Performance
The single entered Billboard's Hot 100 at #89 for the week ending August 4, 1979 (chart | magazine) and, after a rather long and arduous climb, finally peaked at #19 for the week ending November 17 (chart | magazine).  In all, it spent 20 weeks on the Hot 100, though that was not quite enough to make the year-end chart.
Michael Johnson hit the Hot 100 one more time the next year, but after that, he moved toward a contemporary country sound, hitting the top ten of Billboard's country chart five times (plus a sixth time in a featured appearance in a Sylvia single) and #1 twice.  He continued performing after that, even as his health started to decline.  He still had had gigs scheduled when he, unfortunately, passed away on July 25, 2017.
"This Night Won't Last Forever" was covered by a couple of country artists after Michael Johnson's version.  Sawyer Brown took it to the top 10 of the country chart in 1997.  Mr. Johnson's version, though, appears to have disappeared from American radio soon after its chart run.  Perhaps a classic hits station might give it a little recognition.
* Such as, say, the 4-year-old version of the author. I have more of a memory for some of the songs I heard on the radio back then than I do for what I had for breakfast yesterday.
** While Vanguard appears to have been factual regarding Michael Johnson's life history, it took some liberties with the chart performances of his albums and singles.
Note: this post contains affiliate links. View my affiliate link disclaimer here.