Like many groups in the early 90s, Boy Krazy came and went rather quickly.  A girl group in which all the members shared lead vocal duties, Boy Krazy had one big hit.  Unfortunately, that big hit didn't chart until well over a year after its release, and by that time, one of the members of the band was already gone.  But such was the story of "That's What Love Can Do".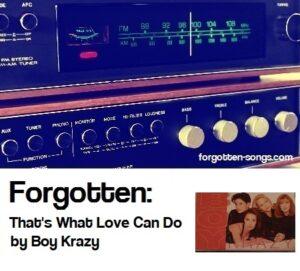 The Rise and Fall of Boy Krazy
According to the website of Rue DeBona, who was a member of Boy Krazy under the stage name Ruth Ann Roberts, she joined the group at age 13, which puts the creation of the group around 1989 or 1990.  Other sources say the band was formed in 1991.  But regardless of when it happened, it was through an audition process that five members came together to form this new group.
Signed to Next Plateau Records, the group began working with the well known (at the time) British songwriting/producing trio Stock Aitken Waterman.  It was this trio that wrote Boy Krazy's first single, "That's What Love Can Do".  The single was released the UK, where it peaked at a not-so-stellar #86.  (A Pop Culture Addict's Guide to Life stated that the song had "backing music that sounds as if it should appear in a Disney princess film.")  Shortly thereafter, one of the group's members, Renée Veneziale, left the group.
Carrying on, the four remaining members worked with Mike Stock and Pete Waterman (Matt Aitken having stepped away from the producing team due to stress) to create another single, "All You Have To Do".  This single performed just as well on the UK charts as the previous single, unfortunately.
Eventually, their work with either SAW or just Stock and Waterman led to the group's one and only album, fittingly called Boy Krazy.  Now, a couple of things happened before this, but we'll get to those in a moment.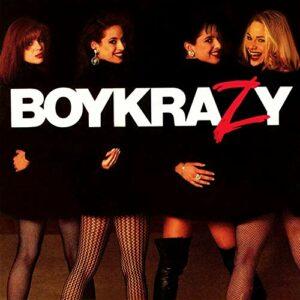 (Boy Krazy didn't quite make the Billboard 200 chart. Album ℗1993, 1992, 1991 PWL International, Ltd.. Photo courtesy Amazon.)
The Remix
Before their eponymous album came out, Boy Krazy saw its original single, "That's What Love Can Do", gain popularity in club play.  The DJ subscription service Hot Tracks remixed the song into something a bit less princessy (if that's a word); this was the version that was played in clubs in 1992.  In December of that year, someone at KQKS in Denver, which was then called KS-104 (and is now called KS-107.5) gave the Hot Tracks remix a spin.  It must have gotten a good response, as airplay took off from there.*
Once the song was getting significant airplay, the Hot Tracks remix was reworked into a radio-friendly single.  This version ended up on the album in place of the original.
Chart Performance
The remix of "That's What Love Can Do" finally made it onto Billboard's Hot 100 in January 1993, debuting at #79 for the week ending January 23 (chart).  While it topped the airplay charts very briefly**, the single peaked on the Hot 100 at a more modest #18 for the week ending February 27 (chart).  It stayed at #18 for three weeks before beginning a very slow decline which includes a four-week stay at #21.  The single lasted on the chart for 20 weeks and did well enough to rank #70 on Billboard's year end chart for 1993.
Amazingly enough, the remix still didn't chart well in the UK, peaking at #80 this time around.  But then, pop music tastes were starting to change in 1993.
After "That's What Love Can Do"
By the time "That's What Love Can Do" had its chart run, of course, one member had left the group; before 1993 had ended, another, Johnna Lee Cummings (who had sang lead on their hit single) would depart.  Another single, "Good Times With Bad Boys", was released in 1993 and hit #59 on the Hot 100 (though, again, it did better on the airplay charts***).  The three remaining members apparently made a go at a follow-up album before giving it, and the group itself, up as a lost cause.
I pondered whether to include this next paragraph…
In 2007, Johnna Lee Cummings was filmed for a short documentary entitled "Expect Less".  (Language warnings apply.)  In it, she spoke about how her life had not gone the way she would have liked (even after a solo career around about 1996).  It illustrates rather well how far one can fall after hitting a high such as the success of "That's What Love Can Do", unfortunately.
Whither "That's What Love Can Do"?
I think I've said before on this site that a lot of the dance music of the early 90s has fallen into the proverbial memory hole.  Boy Krazy's music was no exception.  But I tend to think that perhaps it's about time that some classic hits station somewhere took a chance and gave this type of music a few spins again.
* And, for this, the liner notes of the album thank KS-104 for its part in getting the single some attention.
** I don't have an official source for this, but several webpages, including Wikipedia, say it topped the Radio & Records CHR/Pop chart.
*** I, for one, remember hearing it in the radio desert of Abilene, Texas back then.
Note: this post contains affiliate links. View my affiliate link disclaimer here.