Let's be honest:  1982 was a weird year for top 40 music.  Disco was dead, punk rock was waning, and no one genre dominated the music scene.  To add to the constant flux in the top 40 sound, dozens of one-hit wonders appeared on the charts that year, seemingly more than in a usual year.  One of the least likely one-hit wonders to chart that year was an act which came out of a recurring skit on a comedy show.  But that's how begins the story of Bob and Doug McKenzie.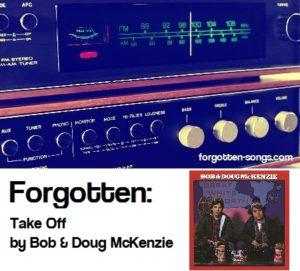 Great White North
Bob and Doug McKenzie, for the uninitiated, were not actually brothers in real life.  They were characters on the sketch comedy show SCTV, portrayed by cast members Rick Moranis and Dave Thomas.  The brothers came into being, per this link, when the CBC, which aired SCTV at the time, asked the show to include some Canadian content.  And so, Mssrs. Moranis and Thomas threw together a conglomeration of Canadian stereotypes, hosted by the two fictional brothers, and named it "Great White North".  Said Mr. Moranis:
We went on the stage with no preparation and did 15 [episodes].  Two of them were lousy, in three we cracked up and fell apart, so maybe six were keepers.
Surprisingly, though, the segments turned out to be a hit.  Bob and Doug McKenzie, for a short time, were the next big thing.  Moving on to other media, the duo next recorded what turned out to be a very successful comedy album.  Great White North was a success in both the USA and Canada,* going platinum in both countries.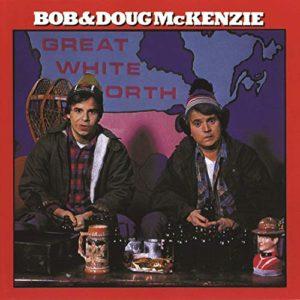 (Great White North hit #8 on Billboard's Top LPs & Tape chart. Album ℗1981 Mercury Records. Picture courtesy Amazon.)
The Hit Single
The one and only single from Great White North was what Bob and Doug McKenzie called the "hit single section of our album".  "Take Off", the title of which was a phrase from their SCTV sketches, featured Rush's Geddy Lee doing most of the singing, though Bob and Doug talk through pretty much the entire track.  (Mr. Moranis, in a 2013 interview, stated that he and Mr. Lee had attended the same grade school, though they hadn't seen each other in quite a while when "Take Off" was recorded.)
The single version of "Take Off" (which does not didn't include the clip Apple Music provided below, which is why I replaced it) helpfully includes a radio-friendly space, in which Bob says "This is where the DJ talks.  Don't say anything."  Casey Kasem, for one, was more than happy to play along, saving his intro to the song until after Bob's line.
Chart Performance
"Take Off" debuted on Billboard's Hot 100 at #84 for the week ending January 30, 1982 (chart | magazine).  It peaked at #16 in its ninth week (chart | magazine) and stayed there one more week before moving back down.  In all, the track lasted 14 weeks on the Hot 100.  Its performance was not quite enough to make the year-end chart, but it was still quite respectable.
Amazingly enough, "Take Off" is, to date, the highest charting single in the US to feature Geddy Lee.**
As Great White North was a comedy album, there wasn't a second "hit single section" to be found.  Bob and Doug McKenzie's lovely rendition of "The Twelve Days of Christmas" ("five golden toques…"), however, still gets occasional airplay to this day, at least in December.
After "Take Off"
Continuing to ride the wave of success, Bob and Doug McKenzie appeared in the 1983 film Strange Brew (which was co-directed by Mssrs. Moranis and Thomas).  The movie was not a great success at the box office, but it has become a cult favorite since its release.
Following the release of Strange Brew and their departure from SCTV, both Rick Moranis and Dave Thomas continued to act.  Following the death of his wife, Mr. Moranis has largely left acting behind, but he has occasionally consented to portray Bob McKenzie again.
As with most comedy/novelty hits, "Take Off" has vanished from all genres of American radio.  It would be a nice surprise to hear it pop up on some 80s-themed show.
Take off, you hosers!
* The album went to #1 on the Canadian charts.
** His highest charting hit with Rush in the US was "New World Man", which hit #21 later in 1982.
Note: this post contains affiliate links. View my affiliate link disclaimer here.