When you think of an artist like Natalie Cole, you might think of all sorts of things.  You might think of her very famous father or her famous duet with him.  Or, perhaps, some of her big hits from the 1970s ("This Will Be" or "I've Got Love On My Mind", for starters) come to mind.  Sandwiched between the 70s hits and her duet with her father, though, Natalie Cole had some lean years, but she also had one huge comeback album, which featured one of her biggest hits ever.  Remember "Pink Cadillac"?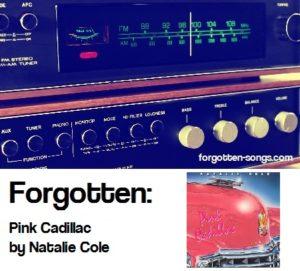 The Early Years of Natalie Cole
Natalie Cole was a woman who seemed destined for success.  The daughter of Nat "King" Cole, Ms. Cole was raised in an affluent area of Los Angeles; she referred to her family as "the black Kennedys".  Music was always in her family; she herself was singing by age 5.
The 1970s were quite good to Ms. Cole.  Her very first single, 1975's "This Will Be", was a top 10 hit; it was followed by several more hits, including two more which made the top 10.  One of those, 1977's "I've Got Love On My Mind", was one of her two highest charting singles, peaking at #5 in April of that year.
The Comeback
The first half of the 1980s, unfortunately, was not all that great to Natalie Cole.  She changed record labels twice, finding little success with either.  While her albums continued to chart, none of them were certified gold, and her singles, with the exception of "Someone That I Used To Love", which hit #21 in 1980, failed to make the top 40.  And, on top of all that, there were continued drug problems (which I don't really want to go into on this page), culminating in a six-month rehab stint in 1983.
In 1987, Natalie Cole changed labels once again, this time to EMI-Manhattan Records, and released Everlasting.  This proved to be the beginnings of a big comeback for her, with the album spawning three top 20 hits.  Everlasting also became her first album to be certified gold since 1979.
The first two singles from Everlasting, the funky "Jump Start" and the ballad "I Live For Your Love", both peaked at #13 in late 1987/early 1988.  That would have been good enough to match her best previous album, as she had never charted more than two singles off any studio album to this point.  But that record was about to change for her.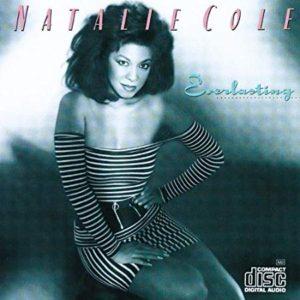 (Everlasting hit #42 on Billboard's Top Pop Albums chart. Album ℗1987 EMI-Manhattan Records, a division of Capitol Records Inc.)
The Remake
The third single from Everlasting was a remake of a Bruce Springsteen B-side track, "Pink Cadillac".  Mr. Springsteen originally thought it gender-inappropriate for a female to sing "Pink Cadillac" because of what the title refers to (at least in Mr. Springsteen's mind),* but Ms. Cole recorded it anyway.  Eventually, per Ms. Cole's autobiography, she learned that he thought her version of his song was "great".
Musically, Natalie Cole's version of "Pink Cadillac" sounds much, much different from that of Mr. Springsteen.  Her version has a dance-pop sound, as opposed to the almost monotonous, rambling sound of Mr. Springsteen's version.**  In addition, Ms. Cole's version, particularly its video, appears to play the imagery of a pink Cadillac straight, eschewing the symbolism originally intended.
As with more than one song of 1987-1988 (one of which is profiled here), "Pink Cadillac" had a 7″ single version that differed from the album version.  AllMusic's review of Ms. Cole's Greatest Hits, Vol. 1 goes as far as to call the album version "lackluster" (as opposed to the "powerful dance song" that was the single version).***
Chart Performance
"Pink Cadillac" entered Billboard's Hot 100 fairly strongly, debuting at #67 for the week ending March 5, 1988 (chart), while "I Live For Your Love" was still on the chart as well (having just fallen out of the top 40).  This single outperformed the two preceding ones, both of which had stalled at #13; "Pink Cadillac", on the other hand, was the second of Ms. Cole's hits to peak at #5, her best Hot 100 performance.  The single reached this height in its tenth week on the chart, the week ending May 7 (chart).  It remained at #5 for one more week before starting its drop.  In the end, "Pink Cadillac" spent 17 weeks on the Hot 100 and was the only single off Everlasting to make it onto a year-end chart; it ranked #75 for 1988.
After "Pink Cadillac"
A fourth single from Everlasting, "When I Fall In Love", just barely made the Hot 100 for all of one week in August 1988.  Natalie Cole continued recording after that, with a fair amount of success over the next few years.
It was in 1991 when she released her most successful album, Unforgettable…With Love.  This was an album of covers of standards by her father, including a "virtual duet" with his original 1951 recording for the track "Unforgettable".  Unforgettable…With Love was Natalie Cole's only #1 album and, as of this writing, is certified 7x Platinum.  Further albums followed, some of which included other virtual duets with Nat "King" Cole.
Sadly, the drug abuse from the 70s and early 80s finally caught up with her, and Natalie Cole suffered from Hepatitis C and also kidney failure (which led to a successful transplant).  The kidney transplant led to pulmonary hypertension, and on December 31, 2015, Ms. Cole passed away as a result of congestive heart failure.
How "Pink Cadillac" Became Forgotten
Perhaps due to Natalie Cole's fairly long recording career, as well as the different eras and genres of her big hits, it was inevitable that some hits would fall through the cracks.  Virtually every big hit she had in the 1980s has disappeared from radio.
Worse, in this case, however, is that the single version of "Pink Cadillac" is not available for purchase as an MP3 download; nor is it available for streaming on Spotify.  Only the album version is available in those formats.  If you want to get the single version that was the actual hit, your best bet is to track down an original vinyl single.
* Exactly what you think it does.
** Your mileage may vary.
*** The review laments that the album version appears on that greatest hits compilation, rather than the single version.
Note: this post contains affiliate links. View my affiliate link disclaimer here.