Once again, lovers of music from decades past have been saddened to hear of the passing of Aretha Franklin from cancer.  To say that Ms. Franklin had a long and successful recording career, quite honestly, doesn't do justice to the influence she had on many, many others.
As with other recording artists whose long and storied careers have been written about extensively after their deaths by others, I'm not going to go into the specifics of Ms. Franklin's entire career.
And Now You Find Yourself In '82
For our purposes, let's jump back to the early 80s.  Ms. Franklin had left Atlantic Records for Arista after a series of relatively (for her) unsuccessful albums and no top 40 singles since 1976.  The first two Arista albums, Aretha (1980)* and Love All The Hurt Away, charted higher than the last Atlantic ones, though sales were still rather disappointing.  Possibly better for future sales was Ms. Franklin's appearance in 1980's The Blues Brothers, in which she sang (or, per some accounts, lip-synced to) her 1969 hit "Think".
Enter singer/songwriter/producer/R&B legend Luther Vandross.  He produced Ms. Franklin's 1982 album Jump To It and wrote or co-wrote half the songs on the album.  And his work on her album appears to have helped, as it became her first album to be certified Gold in six years.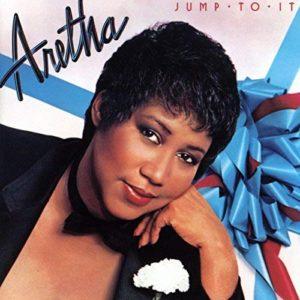 (Jump To It peaked at #23 on Billboard's Top LPs & Tape chart. Album ℗1982 Arista Records.  Photo courtesy Amazon.com.)
The title track from Jump To It (one of the tracks co-written by Mr. Vandross) doesn't really have a lot of hidden meaning in its lyrics.  She wants her loving, so she's gonna jump to it.  Full stop.  Really, I think the music is what sets this track apart from others with similar meanings.  It fit nicely into the post-disco R&B sound of 1982.
Chart Performance
"Jump To It" entered Billboard's Hot 100 at #83 for the week ending August  21, 1982 (chart | magazine).  After spending two weeks stuck at #25, it climbed all the way to #24, which turned out to be its peak position, for the week ending October 9 (chart | magazine).  It stayed at #24 for two weeks also, and then took a sharp nosedive right out of the top 40 the next week and all the way off the chart three weeks after that.  It was on the Hot 100 for 12 weeks, but it also hit #1 on the R&B chart (or, as it was called then, the Hot Black Singles chart), her first #1 on that chart in five years.
There were two more singles released from Jump To It after the title track, but neither hit the Hot 100.  Of course, later releases from Aretha Franklin performed quite well, with one more #1 hit when she recorded a duet with George Michael.  Ms. Franklin continued to hit the top 40 well into the 90s, and she placed songs on the R&B chart well after that.
Also, as stated earlier, she influenced so many others throughout her storied career.  No less a legend than Chaka Khan said once about her:
When I was in talent shows, the vocalist I patterned myself after was Aretha…People try to call me the queen of this or the queen of that. Don't get it twisted. There's only one reigning queen, and her name is Aretha Franklin. I'm just a lady in waiting.
The Queen of Soul will never be forgotten.  With that said, it would be nice if "Jump To It" was a bit more remembered by American radio.
* Aretha Franklin released two albums named Aretha; the other was released in 1986.
Note: this post contains affiliate links. View my affiliate link disclaimer here.