It's not uncommon at all to see a song hit the charts in multiple versions. Heck, some artists built their reputations through remakes. (For example, a good percentage of Linda Ronstadt's released singles were covers.) It's less common, however, to see a song hit the charts twice in versions from bands much further apart in genre than the two bands which hit the charts with a song, originally released in 1985, called "In My Dreams".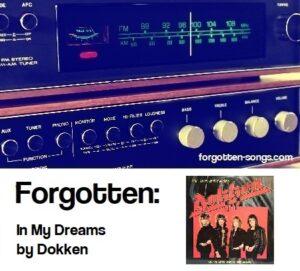 Who released "In My Dreams" first?
"In My Dreams" was, in its original form, a power ballad by metal band Dokken.  Formed, as might be inferred, by vocalist/guitarist Don Dokken, his namesake band was not quite as high-profile as some of the other glam metal bands of the 1980s, but it was still quite successful in that decade, with no fewer than three platinum albums and a fair number of songs making the top 30 of Billboard's Mainstream Rock chart.  Add to that a long run of stability in the band's lineup, and you could say that Dokken had a fairly good decade.
It was in the middle of this period of success that Dokken released the 1985 album Under Lock and Key, which featured tracks ranging from hard rock to, as was stated earlier, power ballads, as well as some of the biggest hair to be seen in the many 80s hair bands.  The first single from that album, "The Hunter", continued Dokken's general trend of Top 30 Mainstream Rock singles.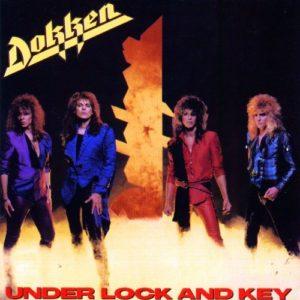 (Under Lock and Key peaked at #32 on Billboard's Top LPs and Tape chart. Album ℗1985 Elektra Records.  Photo courtesy Amazon.)
Chart Performance
The second single, "In My Dreams", a power ballad about a lost relationship, also sailed into the top 30 of the Mainstream Rock chart while also entering Billboard's Hot 100.  The single debuted at #93 for the week ending February 22, 1986 (chart | magazine); it slowly climbed the chart and peaked at #77 for the week ending March 22, exactly a month later (chart | magazine).  In all, it lasted for seven weeks on the Hot 100 despite its low peak.
"In My Dreams" was the final non-promo single released off Under Lock and Key.  Dokken kept its hot streak going, though, with one more platinum album, Back for the Attack, which spawned three singles, all of which hit the Mainstream Rock chart; one of those singles, "Burning Like a Flame", was Dokken's third and final single to hit the Hot 100.
Dokken after "In My Dreams"
Unfortunately, that long run of stability which Dokken had enjoyed came to a quick end thanks to a bit of acrimony between Don Dokken and guitarist George Lynch.  The band broke up for some time until a Columbia Records executive wanted to release a Don Dokken solo album as a Dokken album and suggested bringing George Lynch back.  The band came back together for a while, until the same differences between Mr. Dokken and Mr. Lynch resulted in Mr. Lynch's leaving the band, this time for good.
Since then, Dokken has continued to record and tour, albeit with multiple lineup changes.  Drummer Mick Brown has remained with the band since 1980, but there have been multiple guitarists and bassists in the past two decades.  Dokken's website shows that the current lineup of the band is still touring and performing presently.
As for "In My Dreams": I doubt I have heard Dokken's version of the song on the radio in at least two decades, though it did attract enough attention that another group would remake it a few years later.
Note: this post contains affiliate links. View my affiliate link disclaimer here.