Occasionally, a musical act, even though it is officially a one-hit wonder, can find itself known for multiple reasons.  Stranger still, that act may find that, while some of its other non-charting work has endured, its one hit didn't.  That is exactly the case with the short-lived early-80s new wave group The Waitresses.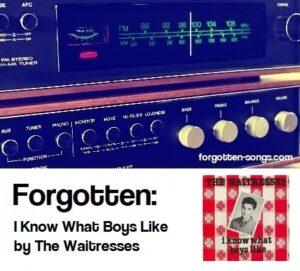 The Beginnings of The Waitresses
The Waitresses began, quite literally, only in the mind of guitarist Chris Butler, who had been in any number of local bands during the 1970s.  Mr. Butler, also a songwriter, started The Waitresses with one song he had written, a track called "I Know What Boys Like".  As Allmusic reports, he performed every instrument on the track himself* in its original recording in 1977, with his friend Patty Donahue, under the name Patty Darling, on vocals.
Eventually ending up in New York, Mr. Butler used his track to land a recording contract with ZE Records.**  As the band was pretty much still fictional at that time, he then had to scramble to get some actual personnel.  Ms. Donahue signed on, along with bassist Dave Hofstra and at least one of Mr. Butler's former bandmates.  In the meantime, ZE Records had released the track, which promptly did absolutely nothing on the charts, though it got some club play.
The short heyday of The Waitresses
Now having more than just Chris Butler, The Waitresses set about recording their first album.  That album, Wasn't Tomorrow Wonderful?, was released to good reviews and performed fairly well on the album chart.  Prior to that, however, the song which has become the most enduring song The Waitresses released, "Christmas Wrapping", came out in late 1981 on the ZE Records Christmas album titled, appropriately enough, A Christmas Record.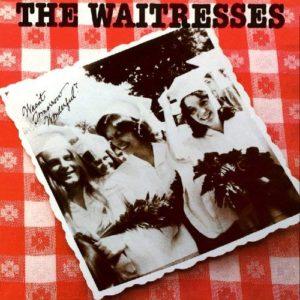 (Wasn't Tomorrow Wonderful? hit #41 on Billboard's Top LPs & Tape chart. Album ℗1982 ZE Records.  Photo courtesy Amazon.)
The one and only single released from Wasn't Tomorrow Wonderful? was the song Chris Butler had recorded several years earlier, "I Know What Boys Like".  Ms. Donahue's attitude-laden lyrics is widely credited (at least by Allmusic) for the success of the song, which features her leading some poor "sucker" on, ending with a playful, if slightly mean-spirited, laugh.
Chart Performance
"I Know What Boys Like", despite having peaked at #23 on what Billboard now calls its Mainstream Rock Songs chart*** back on February 27, 1982 (chart – Billboard Pros only | magazine), didn't manage to enter the Hot 100 until May 8 of that year, debuting at #84 (chart | magazine).  Its ascent of the chart was a short one; it peaked at #62 before that month ended (chart | magazine).  Three weeks later, it was off the chart.  (It did make the top 20 in Australia, though.)
The Waitresses released one more full album and two EPs in the two years following the chart run of "I Know What Boys Like"; they also performed the theme song to the CBS TV show Square Pegs.  However, all was not well with the band; Patty Donahue left briefly, came back, and then left for good, and soon afterward, The Waitresses were no more.  Unfortunately, Patty Donahue died at age 40 of lung cancer in 1996.
These days, "Christmas Wrapping" will still find airplay in December on one or more radio stations in pretty much any American market, and, very occasionally, some digital subchannel network will rerun Square Pegs, but you will rarely hear "I Know What Boys Like" on terrestrial American radio.
Sucker.
This forgotten hit by The Waitresses deserves to be heard more on American radio.

Like these songs? Buy me a coffee!
* Billboard's biography of The Waitresses, which has been scrubbed from its website for reasons I don't understand, credits the saxophone work to Chris Butler's bandmate Ralph Carney.
** ZE Records, while probably not a well known label, did have some recognizable names signed to it, including Was (Not Was) and Kid Creole and the Coconuts.
*** Back then, it was called Rock Albums and Top Tracks and was actually two charts: albums and singles.
Note: this post contains affiliate links. View my affiliate link disclaimer here.