When asked about Leo Sayer, I would guess that most people would either respond with "Who?" or possibly remember one or two songs of his…or the fact that he once appeared on the Muppet Show.  I personally remember him for three songs.  Two of them, "You Make Me Feel Like Dancing" and "When I Need You", were mainstays on middle-of-the-road radio in my hometown for years.  The third, Mr. Sayer's 1980 remake of "More Than I Can Say", was popular after I was old enough to pay attention to what songs were popular at the time.
But I never remember hearing "How Much Love" even once.  It's quite possible that I heard it when it made its appearance on the charts, but I was too young to notice, and for some reason, it never survived as a recurrent the way other songs from Mr. Sayer did.
"How Much Love" was the third single from Mr. Sayer's 1976 album Endless Flight.  The first two singles were the two mainstays I remembered from my youth; both songs hit #1 on Billboard's Hot 100.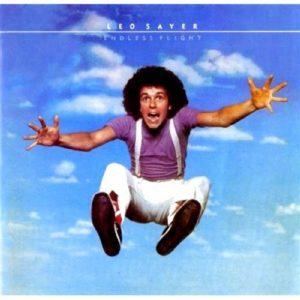 (This picture deserves a better caption than I can come up with at this hour.  Submissions are welcome.)
(Endless Flight peaked at #10 on Billboard's Top LPs and Tape Chart. Album ℗1976 Warner Bros. Records. Photo courtesy Amazon.com.)
Chart Performance
"How Much Love" debuted on Billboard's Hot 100 at #77 for the week ending July 9, 1977 (chart).  It peaked at #17 the week ending August 27 (chart) and stayed there for two weeks before rather quickly descending the charts, appearing at #70 during its 15th and final week on the charts, the week ending October 15 (chart | magazine).  Billboard ranked it the #98 song for the year 1977.
Following "How Much Love", which turned out to be the final single from Endless Flight, Mr. Sayer hit the bottom of the top 40 twice before hitting #2 with "More Than I Can Say" three years later.  His songs continued to chart in the U.K. into the 1980s, but after 1981, he never again appeared on the Hot 100.
As for "How Much Love" itself, I heard this song for the first time during a local radio station's daily nine-songs-from-one-year feature (mentioned on this site before…here, for example), when they happened to be featuring 1977.  I heard it a second time…another time that same station used 1977 for that same feature.  And I've heard it on the radio no other time before or since.
Note: this post contains affiliate links. View my affiliate link disclaimer here.