1980 was, to put it mildly, a year of upheaval in the world of top 40 music in America.  The disco era was ending rapidly, its end having been hastened by several causes, not the least of which was a changing in listeners' tastes toward music such as "My Sharona", which had been the previous year's #1 song.  While some listeners embraced the new wave movement from whence "My Sharona" came, others moved toward a resurgence of a mellower sound.
What is now called "yacht rock" had had its beginnings a few years earlier, but it reached its peak in 1980.  Most prominent among the yacht rock artists in that year, of course, was Christopher Cross, but many established artists charted their own entries in the subgenre as well.  In addition to Mr. Cross, several other newcomers entered the chart in 1980.  One of those was Amy Holland.
Who Is Amy Holland?
Born Amy Boersma, Ms. Holland, per her website, came to southern California as a teen hoping to get her break as a singer-songwriter. Sometime between her arrival in California and the release of her first album, Ms. Holland met a piano accompanist (though he eventually made much more of a name for himself singing) named Michael McDonald.
Somehow, despite Mr. McDonald's appearance in a whole bunch of tracks during that time period (both singing lead with the Doobie Brothers and providing backing vocals for others, including the aforementioned Mr. Cross), he found the time to produce Ms. Holland's eponymous debut album.  Granted, the fact that the two of them were dating at the time may have helped.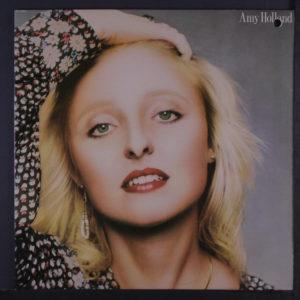 (Amy Holland peaked at #146 on Billboard's Top LPs and Tape chart. Album ℗1980 EMI Records.  Photo courtesy Records By Mail.)
The first single from Amy Holland was a remake of a Paul Bliss song called "How Do I Survive".  Featuring backing vocals, as might be expected, by Michael McDonald, as well as Tom Scott on saxophone, "How Do I Survive" spent a respectable 16 weeks on Billboard's Hot 100.  It entered the chart at #80 for the week ending August 9, 1980 (chart | magazine), one position away from the top debut of the week ("Xanadu").  Two months later, it reached its peak at #22 (chart | magazine) and spent two weeks there.
After "How Do I Survive"
Based on her early chart success, Amy Holland was nominated for the Best New Artist Grammy for 1980.  The success of "How Do I Survive", though, was not enough to top the year Christopher Cross had had with his eponymous debut album, and, fittingly, he won the Grammy.
As for Amy Holland, it turned out that "How Do I Survive" was to be her only solo track to chart on the Hot 100, though a duet with Chris Christian, "Ain't Nothing Like the Real Thing", scraped the bottom of the chart.  She only released three more albums (two of which were just in the past ten years), but she did also contribute tracks to many motion picture soundtracks in the 1980s.
In 1983, Amy Holland and Michael McDonald were married, and they are still married as of this writing, 34 years later.  Ms. Holland took a break from recording for some time after their marriage to be a full-time mom and wife.  She has occasionally toured with her husband in more recent years, performing backup vocals.
This forgotten 1980 Amy Holland hit deserves some airplay today.

As far as I know, I have never heard "How Do I Survive" played on the radio in any way whatsoever except in classic American Top 40 rebroadcasts.  (Heck, her debut album is only available on Amazon as an import or used.)  It's a good representative of 1980 top 40 listeners' tastes. Some classic hits station ought to give it a few spins.
Note: this post contains affiliate links. View my affiliate link disclaimer here.