At the end of the 1970s, the Southern rock band Wet Willie had decided to split up (though they still tour occasionally, even now).  Lead singer Jimmy Hall, though, was invited to record a solo album by the band's then-label, Epic Records.  And while Jimmy Hall's solo career did not produce a lot of chart success, it did yield one bona fide hit, a song which is, sadly, quite forgotten now.
Jimmy Hall After Wet Willie
In 1979, what would be the final hit for Wet Willie, "Weekend", cracked the top 30 and helped move Steve Dahl's anti-disco backlash forward…so, rather a one-step-forward-two-steps-back trend for the Southern rock-disco hybrid that "Weekend" had had.  Not having enough material ready for another album, the band ended up splitting and moving on to other projects.  Jimmy Hall explained:
After the band split in 1980, Marshall Smith put his own band together and toured in the South. He has since passed away in 2006 from heart problems. Mike Duke wrote some hits for Huey Lewis and the News: "Doin' It All For My Baby" and "I Hope You Love Me Like You Say You Do". He now lives in California still songwriting and doing his favorite thing-cooking wonderful meals for groups of people. T.K. worked with several bands including one with members of .38 Special called "Rib Joint".  Jack Hall and Larry Berwald worked some on my solo CD "Touch You".  Jack toured with various artists and is currently playing with several bands in the Atlanta area.
Touch You, Jimmy Hall's solo album, had a different sound than the Wet Willie albums, to be sure, but then, the world of pop music was much different in 1980 than it was in the 70s, or even 1979.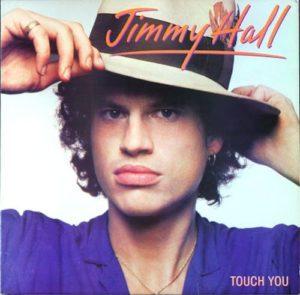 (Touch You peaked at #183 on Billboard's Top LPs and Tape chart. Album ℗1980 Epic Records.  Photo courtesy Allmusic.)
The Single
The first single from Touch You was titled "I'm Happy That Love Has Found You".  With a title like that, it could almost seem as if the writer is on the outside looking in at someone he loves finding love with someone else, but in this case, he is happy because that someone has found love with him.
Chart Performance
"I'm Happy That Love Has Found You" debuted on Billboard's Hot 100 chart at #89 for the week ending September 27, 1980 (chart | magazine).  It his its peak at #27 about two months later (chart | magazine).  Following that, it managed to hang onto the bottom of the Hot 100 for several weeks, finally falling off after 17 weeks on the chart.  The single also hit the Top 30, just barely, on the Adult Contemporary chart, well after it had peaked on the Hot 100.  It was popular enough to make it onto one of the K-Tel compilations of the day (specifically, Full Tilt), which is where this author found his copy of it.*
Unfortunately, "I'm Happy That Love Has Found You" would prove to be the only charting single from Touch You.  Jimmy Hall would hit the Hot 100 just once more, about a year and a half later; that single wouldn't climb any higher than #77.  According to his website, he has also been a vocalist for both Hank Williams Jr. and Jeff Beck, and he has written for many other artists.
Forgetting "I'm Happy That Love Has Found You"
As with Wet Willie's music released on the Epic label, Jimmy Hall's solo music is difficult to find either on the radio or digitally.  However, "I'm Happy That Love Has Found You" has made it onto at least one digital compilation (as can be seen via the link below).  It would be nice if it made a return to radio as well.
* I've found more than a few K-Tel albums from the late 70s and early 80s, most of which were being sold for about 95 cents apiece at some used book store.
Note: this post contains affiliate links. View my affiliate link disclaimer here.