It's not unheard of for a recording group to be better known for writing songs for others than for their own recordings.  In the case of this entry's group, the Addrisi Brothers, they are probably best remembered today for writing one particular hit for another group.  They certainly are not remembered by radio for their 1979 release, "Ghost Dancer".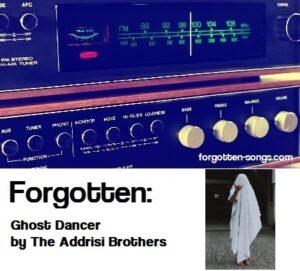 About the Addrisi Brothers
The Addrisi Brothers, per their AllMusic bio, came from a sort of show business background, it could be argued.  Don and Dick Addrisi's parents were part of a family acrobatic act, the Flying Addrisis.  Apparently not interested in acrobatics, the two brothers chose to go into music.  They got their first professional representation in the mid-50s with the help, surprisingly, of Lenny Bruce.
Their early recording period probably wouldn't be considered much of a success.  They released several singles, of which only one, 1959's "Cherrystone", managed to chart.
Rather than giving up on the business entirely, the brothers turned more toward songwriting.  Almost certainly the most famous song written by Don and Dick was "Never My Love", which hit #2 on Billboard's Hot 100 and #1 on the Cash Box Top 100 in 1967 for The Association.*
It was in the 70s when the Addrisi Brothers reemerged onto the pop charts.  Perhaps they were helped by the visibility that came from their singing of the theme song to the 1970-71 ABC series Nanny and the Professor.  But regardless of why, the duo hit the top 30 with "We've Got to Get It On Again" in 1972.  A few other hits followed later that decade, including the #20 hit "Slow Dancin' Don't Turn Me On".
In 1979, Don and Dick switched labels, moving to Scotti Brothers Records.  It was with this label that they recorded their third album, Ghost Dancer.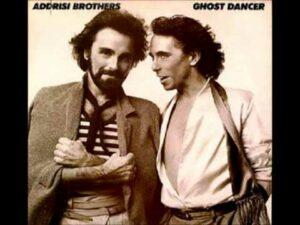 (Ghost Dancer failed to make Billboard's Hot LPs & Tape chart. Album ℗1979 Scotti Brothers Records.)
The Single
The only charting single from Ghost Dancer was its title track.  Built upon one of the most unique premises of any song I've ever heard, "Ghost Dancer" tells the story of a "spooky" stranger who always dances alone, with our fraternal narrators wondering why.  And you'd wonder too, 'cause you're certainly not going to go up and ask him.
Luckily, there's hearsay to explain what's up with this guy.  Apparently his dance partner died from "something".  However, it gets better (?) at midnight, when her ghostly image appears and dances with him.  So, there it is:  death can't stop true love.  Or disco dancing.  Or something.
Chart Performance
By the time "Ghost Dancer" charted, the disco backlash was in full swing; whether that affected this single's chart trajectory, no one knows.  The single debuted on Billboard's Hot 100 at #85 for the week ending August 11, 1979 (chart | magazine).  It slowly moved up the chart and peaked at #45 just over a month later (chart | magazine).  From there, the song quickly plummeted.  Once three more weeks had passed, it was off the charts.  Needless to say, this was not enough for the single to make the year-end chart, certainly not in 1979, when there were so many strong hits.
With all that said, I will point out that the Addrisi Brothers got slightly more traction with "Ghost Dancer" on the Adult Contemporary chart.  Their single peaked on that chart at #41 for the week ending September 22, 1979 (chart | magazine).
After "Ghost Dancer"
"Ghost Dancer" turned out to be the final charting hit for the Addrisi Brothers.  They continued to record together after that, with their last single being released in 1981.  Unfortunately, in 1984, Don Addrisi died of pancreatic cancer.
It didn't take long for "Ghost Dancer", and, really, the rest of the Addrisi Brothers' singles, to vanish from the radio.  (I'd wager you won't even hear this one on satellite radio.)  As with some of the other honorees on this page, this one isn't even available for purchase as an MP3 on Amazon at this writing, 40 years later.  For that matter, you can't even buy the album there.
* The Addrisi Brothers released "Never My Love" themselves in 1977, hitting #80 with it.
Note: this post contains affiliate links. View my affiliate link disclaimer here.