When arguably most people (and definitely most radio programmers) think of classic bands that break up and then get back together much later, they never seem to think of the music those bands made during the reunion phase.  An obvious example – and perfect for this blog – would be the Eagles.  After what is known to have been a very acrimonious breakup in 1980, they reformed over a decade later and released at least two songs that got a lot of airplay.  But when was the last time you heard either of those songs, I ask you?  Do you even remember the names of those two songs?
Today's post will highlight the song that officially became the group's final top 40 hit, "Get Over It".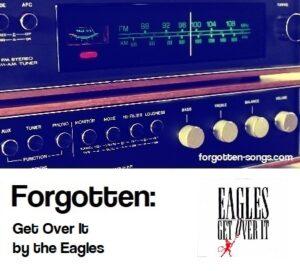 Hell froze over: the Eagles reunite
I'm not going to waste a lot of time typing up the same bio of the Eagles that you can read at other places.  Obviously, they were one of the most successful acts of the 1970s, but things were not always rosy.  Probably the best writeup you're going to get about the tensions behind the scenes comes from lead guitarist (at the time) Don Felder, a except of whose book is archived here.  Suffice it to say that it was never expected that the Eagles would ever reunite after a very messy breakup in 1980.  It wasn't for nothing that Don Henley would remark (apparently often) that the Eagles would get back together "when hell freezes over".
And yet…
Ultimate Classic Rock tells the story of how, in 1994, the 1980 lineup of the group went from appearing in a Travis Tritt music video* to agreeing to perform together live.  That performance (originally for MTV, which, I'm told, used to play music) yielded 11 live tracks, which were combined with four new album tracks to create Hell Freezes Over.  I mean, what other name could they have picked?
Hell Freezes Over was an immediate success.  It sold over nine million copies, second among Eagles albums** only to Hotel California.  (Their Greatest Hits (1971-1975) has sold well over 40 million copies and is one of the best-selling albums ever.)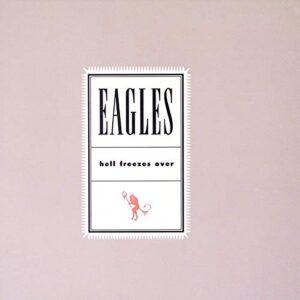 (Hell Freezes Over, not surprisingly, debuted at #1 on the Billboard 200. Album ℗1994 Geffen Records.)
The Single
The first single from Hell Freezes Over, "Get Over It", was credited to Don Henley and Glenn Frey.  It appears, though, to mostly reflect the views of Mr. Henley.  The meaning of the song is pretty straightforward:  it is directed at people who think the world owes them something, and it is not very complimentary toward them.  It also throws in a reference to Shakespeare's classic line "let's kill all the lawyers".
Regardless of how one feels about the lyrics, this is a pretty rocking track.
Chart Performance
Released before Hell Freezes Over, "Get Over It" rode the wave of enthusiasm from the Eagles' live special and subsequent tour to become the highest debut on the Hot 100 for the week ending October 29, 1994 (chart | magazine).  It charted that week at #61, and just two weeks later it peaked at #31 (chart | magazine).  In all, the single stayed on the Hot 100 for 14 weeks.  While that's fairly respectable, other songs were staying on that chart for much longer by then.
Surprisingly, "Get Over It" had a higher peak on the Adult Contemporary chart, getting up to #21 (chart – Billboard Pros only).  It performed even better on what is now the Mainstream Rock chart, peaking at #4 (chart – Billboard Pros only).
Eagles After "Get Over It"
And what was the other song from Hell Freezes Over that got a lot of airplay?  Why, it was "Love Will Keep Us Alive".  However, that one never hit the Hot 100, since it was never released as a single.  It did top the AC chart, though.
It would be a long time before the Eagles released another album for various reasons.  Mr. Frey suffered from diverticulitis, and then there were legal issues due to the dismissal of Mr. Felder by Mssrs. Henley and Frey.  Eventually, 2007 saw the release of Long Road Out of Eden, which went 7x platinum.
These days, the Eagles are still performing, though without Mr. Frey, who died in 2016 (and whose music has been featured on this blog before).  His son, Deacon, has joined the remaining band members for performances, along with country musician Vince Gill.
In the meantime, "Get Over It" has disappeared from radio.  Classic hits stations would probably find it too hard, and classic rock stations are probably too busy playing "Hotel California" for the third time today.
But I'll get over it.
* Specifically, it was his cover of "Take It Easy".
** Non-compilation albums, that is.
Note: this post contains affiliate links. View my affiliate link disclaimer here.