As is the case with many recording acts who have been around for a while, David Bowie has had some hits that radio has forgotten.  Sure, some still get airplay, but how long has it been since you've heard his 1984 top ten hit "Blue Jean"?
David Bowie in 1984
I'm not going to attempt to write up David Bowie's long and successful career in this space.  There are lots of other places on the net which have done so, and almost certainly better than I could have done it.   Instead, let's pick up in 1984.  Mr. Bowie was flying high, helped by the success of the platinum Let's Dance the year before.  And then, according to Ultimate Classic Rock:
Concerned that he'd lose his expanded pop audience if he didn't return with a new album quickly, he rushed out Tonight in the fall of '84. Bowie later admitted that he hadn't had enough time to get an LP's worth of material together.
Still, fans were happy with a new Bowie album, and sales earned it a platinum certification, so perhaps it wasn't quite as bad as its reputation now appears to be.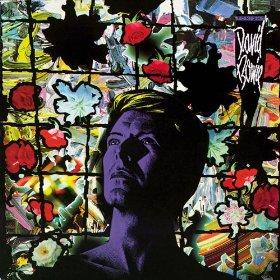 (Tonight peaked at #11 on Billboard's Top 200 Albums chart. Album ℗1984 Virgin Records.  Photo courtesy Amazon.com.)
The Single
While the album was apparently a disappointment to some, including Mr. Bowie himself, the first single from Tonight, "Blue Jean", performed rather well on the charts for a song that Mr. Bowie once described as follows (from a 1987 interview as quoted by–sorry–Wikipedia):
"'Blue Jean' is a piece of sexist rock 'n roll. [laughs] It's about picking up birds. It's not very cerebral, that piece."
Not cerebral, but it had a good beat, and you could dance to it.  And in 1984, perhaps that was just what the listening public wanted.
Chart Performance
"Blue Jean" entered Billboard's Hot 100 all the way up at #54 for the week ending September 15, 1984 and peaked at #8 seven weeks later (chart).  It had a good run on the charts, lasting 18 weeks on the Hot 100.  It apparently just missed Billboard's Hot 100 of 1984, though, interestingly, it charted at #88 on American Top 40's top 100 of that year.*
David Bowie After "Blue Jean"
Unlike so many other recording acts of his era, David Bowie never really went away.  In addition to recording, he also acted, including a memorable lead role in Jim Henson's "Labyrinth".  He continued to chart through his lifetime, right up to his death from cancer in January 2016.
Forgetting "Blue Jean"
Personally, I have not heard "Blue Jean" on the radio probably since it fell off the charts in early 1985.  I've heard a number of other David Bowie songs on the radio more recently, which is a good thing, but it would be nice for "Blue Jean" to join that number.
* While American Top 40 used the Billboard Hot 100 as its exclusive source until November 1991, it did not always use Billboard's Hot 100 for its year-end countdowns for some reason.